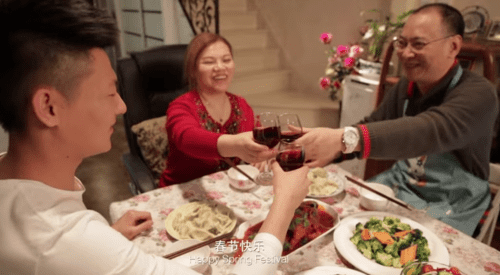 Much like Thanksgiving here in the West, the Lunar New Year is a time for many of those celebrating to reconnect and gather with their families. In celebration of the Lunar New Year, PFLAG China has released a short film entitled "Coming Home" celebrating parents that have accepted their queer children for who they are.
The Hollywood Reporter notes that the film has already garnered over 100 million online views.
Though China as a country has steadily made incremental progress in its treatment of its LGBT population, a significant portion of the population and most of the Chinese government holds true to traditions and policies that discourage queer people from coming out.
"Coming Home" tells the story of an openly gay man who returns to be with his family years after they initially rejected him for coming out. In the past few days the film's popularity spiked hundreds of thousands of people shared it via QQ Live, a Chinese video-based social networking platform.
"Be brave and be yourself," one of the mothers featured in the film implored to those watching. "Tell your parents your experiences, and we will share with you."
Watch PFLAG China's "Coming Home" here AFTER THE JUMP…