The Baton Rouge Police Department has once again found itself in the news for its enforcement of the state's unconstitutional anti-sodomy law, state paper The Advocate reports: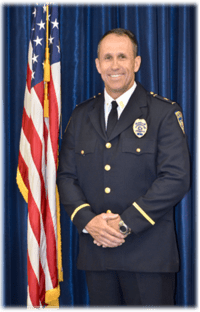 Baton Rouge Police Chief Carl Dabadie (right) Friday sent a departmentwide memo to remind officers not to arrest people using that statute, department spokesman Lt. Jonny Dunnam said. The arrests happened Thursday just after 2 a.m., when a Baton Rouge police officer was on patrol in Forest Community Park and found two men having sex in the backseat of a car, according to arrest reports. The men were in the park after hours, the reports say.
Both men, a 33-year-old and a 25-year-old, were booked into Parish Prison on counts of trespassing in a BREC Park and crimes against nature. One of the men was still in Parish Prison as of 2:30 p.m. Friday, booking records show.
East Baton Rouge Parish District Attorney Hillar Moore III said a district judge threw out the crimes against nature count after finding there was no probable cause.
The police department also recognized the mistake and had planned to drop the charges.
"The officers made a mistake," Dunnam said. "The chief wants to send his apologies to those individuals for making that mistake and has contacted supervisors to make sure this doesn't happen again."
Back in 2013, The Advocate reported the East Baton Rouge's sheriff's office had arrested over a dozen men since 2011 under the law forbidding "unnatural carnal copulation."
Laws criminalizing consensual sex between same-sex partners were declared unconstitutional in the 2003 Supreme Court decision Lawrence v. Texas. Last April, the Louisiana House rejected legislation that would have removed the anti-sodomy language from the books. 
The Baton Rouge Police Department, meanwhile, says it plans to go ahead with the counts of trespassing in the park against the two men.