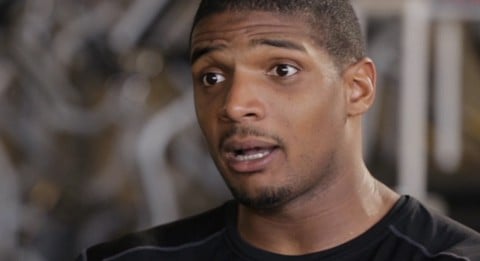 In a new post on Sports Illustrated's MMQB blog, Michael Sam reflects on the last 12 months of his career and his goal to make it onto the NFL roster. The first openly gay player to be drafted in the league, Sam attempts to set the record straight, so to speak, about his decision to come out and what he believes has stopped him from being signed to one of the NFL's 32 teams.
While Sam writes, "I don't believe that being gay has kept me off an NFL roster," he also states unequivocally that his not being in the league is not for lack of the requisite athletic ability to succeed: "I will challenge anyone who says I don't have the talent to make it in the league."
Of his decision to come out, Sam tackles head-on the intense media scrutiny over the attention he received, stating, "Contrary to what some people may think, I didn't make this announcement for the sake of making history, or because I relished the attention that it came along with."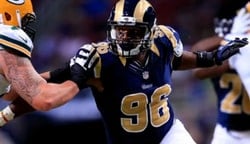 Sam's up-close-and-personal essay also addresses that infamous ESPN report on his showering habits:
"I never doubted that my teammates had my back, but if I needed any evidence, it happened toward the end of camp in August when a television network decided to run a questionable segment about what my showering habits looked like. I immediately received support inside the Rams locker room from my teammates, but when Chris Long sent his famous tweet informing the network that "everyone but you is over it," that meant a lot. To see a veteran like Chris very publicly get my back is something I will never forget and will always be grateful for."
In an interview with the MMQB, the former SEC Defensive Player of the Year talked about being contacted by closeted players both in the NFL and other sports leagues, saying,
"I'm not the only one. A lot of people–just because we play a masculine sport they think there's no gay players in the NFL. There's a lot of us. And you know, but they need to feel more comfortable to come out when they're ready."
Sam adds that he thought his coming out as a rookie would give "courage" to closeted players who were veterans in the league to come out. Said Sam, "I was wrong, but it's all good."
Meanwhile, Sam isn't giving up on his NFL aspirations: "I'll give up the game when my legs are both broken. I'm a football player and I will keep fighting for my dream to play in the NFL."
Watch Sam's interview with the MMQB, AFTER THE JUMP…
And read his post HERE.