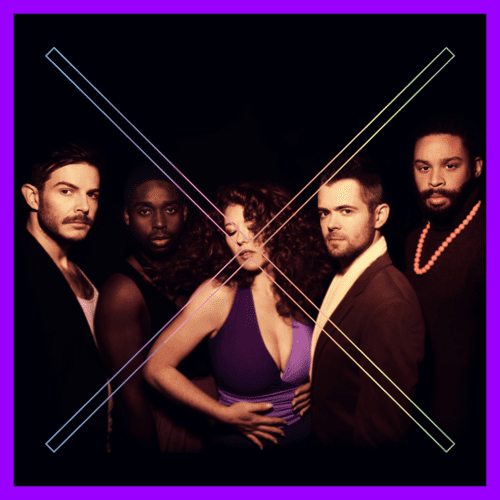 BY OCCUPY THE DISCO / RU BHATT
Scissor Sisters' guitarist Del Marquis (Derek Gruen) has been cultivating his own brand ever since the band took an indefinite hiatus after their 2012 release, Magic Hour. Marquis released Cosmos under the Slow Knights moniker the following year, and quickly became a personal favorite with additional remixes by ColeCo and stage shows with Midnight Magic and Spank!
While Del Marquis was the mastermind behind Cosmos, he did mostly featured other vocalists such as Rod Thomas (Bright Light Bright Light), Xavier Smith and Bridget Barkan on the album's tracks.
Those vocalists have now officially joined Slow Knights and are ready to release their sophomore effort, Living in a Dark World, Let Me Be Your Light. The lead single, 'Just Kiss' features soulful vocals and lyrics about attraction and anger layered over trap drums and '80s synths. The track is very heavily rooted in R&B, but it also has a tropical disco remix by ColeCo, which should be hitting the sound waves next week. 

Check out additional tracks, all of which are available as Free Downloads, AFTER THE JUMP…
Disco pundits Classixx have updated Shep Pettibone's acapella version of Janet Jackson's 'Pleasure Principle' with slow burning synths and light percussion and bass, making it a 'Recovery' jam worthy of your undulation. Check out more of their 'Recovery' style here.
R&B stalwart D'Angelo gets a light, disco update to his latest single, 'Betray My Heart,' courtesy of L.A.'s Dino Soccio.
Brandy continues to be a favorite for contemporary DJs and producers, which is great for those like me that wax nostalgic for the '90s. Vancouver's tails spreads cheer by speeding up Brandy's vocals on her 1994 hit, 'Baby' and buries them between upbeat synths, in stark contrast to his somewhat gloomy, yet still entertaining, edit of Janet Jackson's 'Alright.'
I normally don't feature the same artist twice in one column but Dino Soccio shows he's not a one trick pony by giving us a house rendition of The Root's 2002 hit, 'Break You Off", from the album Phrenology.
NYC-based duo In The Night show us there's room for another remix of Whitney Houston's 'It's Not Right But It's Okay' beyond the iconic Thunderpuss version we all love. Their version makes it much more of a late night affair, perfect for house music enthusiasts.
OCCUPY THE DISCO (OXD) curates and recommends music events to the gay community in NYC—in an effort to move the focus of the nightlife scene beyond the promoter and venue and to the music itself. OXD's goal is to educate, entertain, engage and empower the gay audience to reclaim their ability to question and experience the unknown. The OXD Mirror will serve to showcase tunes that are definitely off-the-beaten-path but rightfully deserve the attention of the gay ear.
This week's post was written and curated by Ru Bhatt. Check out more of his music picks on his podcast, The Ru-Mix and on Made In Brazil.
Be sure to check out these tracks and more on Soundcloud. For more information on OXD, check out our website and accompanying blog at www.occupythedisco.com, like us on Facebook, or follow us on Twitter: @OccupyTheDisco.