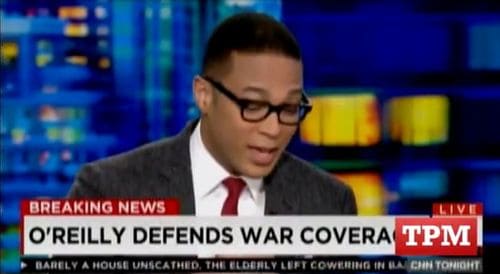 In a CNN discussion earlier about Bill O'Reilly's spat with Mother Jones regarding his war zone recollections, anchor Don Lemon provided some uncensored reporting on O'Reilly's colorful thoughts on the matter.
Said Lemon:
"He says it's 'total bullsh–t.' BS, excuse me. Total BS. Pardon me I did not mean for that to come out."
Following the segment, Lemon apologized profusely to viewers for the slip.
Watch, AFTER THE JUMP…
Lemon's previous on-air gaffes were documented by the Columbia University Graduate School of Journalism, who last year named him to the "Worst Journalism of 2014" list.