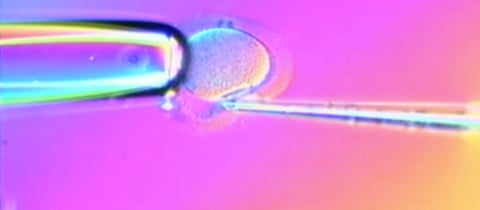 BY CORINNE PURTILL / GlobalPost
If the bill becomes law, the UK will become the world's first country to legalize the creation of embryos using DNA from three different people.
LONDON, UK — Great leaps forward in science usually take place in laboratories, not among the green upholstered benches of Britain's House of Commons.
But genetic history was made there Tuesday when lawmakers voted to approve a procedure that could prevent life-threatening diseases by replacing some of an egg cell's damaged DNA with that from a healthy donor.
If the bill becomes law, the UK will become the world's first country to legalize the creation of embryos using DNA from three different people.
Headlines around the world have touted the vote as the dawn of "three parent babies" — an attention-grabbing but not totally accurate characterization.
CONTINUED, AFTER THE JUMP…
The "third parent" DNA would comprise no more than 0.2 percent of the child's genetic material. Donors would remain anonymous and waive all parental rights.
Members of Parliament voted to allow the UK's Human Fertilisation and Embryology Authority to allow a procedure called mitochondrial transfer, or mitochondrial donation.
Developed at the University of Newcastle, the procedure targets genetic diseases carried in the mitochondria, the energy-producing battery of the cells. Problems in the mitochondria can result in illnesses ranging from epilepsy and Parkinson's disease to severe and life-threatening issues like Leigh's disease and Barth syndrome. An estimated 2,500 women in the UK are at risk of passing on such disorders.
Scientists believe that replacing the damaged mitochondrial DNA in a mother's egg with healthy DNA from a female donor would prevent such disorders from being passed on.
The technique is a modified version of in vitro fertilization. Before a fertilized egg is implanted in the mother's womb, the faulty mitochondrial DNA is replaced with some from a healthy donor. Because mitochondrial DNA is passed down only on the mother's side, the donor must be female. In all cases, babies resulting from a successful transfer and pregnancy would have DNA from one man and two different women.
"We have finally reached a milestone in giving women an invaluable choice, the choice to become a mother without fear of passing on a lifetime under the shadow of mitochondrial disease to their child," said Robert Meadowcroft, chief executive of the Muscular Dystrophy Campaign, in a statement after the vote.
The move was hailed Tuesday by researchers, as well as families affected by mitochondrial disorders. The BBC profiled a woman named Sharon Bernardi, who lost all seven of her children to disorders the transfer procedure is designed to prevent.
Other supporters include Prime Minister David Cameron, whose son Ivan had severe disabilities as a result of cerebral palsy. Ivan died in 2009 at age 6.
"As someone who had a severely disabled child myself, I know what parents go through when they are concerned about these issues," Cameron said before the vote. "All the arguments are in favor. We should make sure these treatments are available."
Opponents warned that it could lead to uncharted ethical waters.
"Where do we stop?" asked Conservative lawmaker Sir Edward Leigh during the debate. "We should ask ourselves why no other state thinks this is proven absolutely safe."
The House of Commons passed the measure 382 to 128 Monday afternoon, after a 90-minute debate criticized by people on both sides as too short for a complicated subject about which most lawmakers lack any expertise.
There will be a second vote that's expected to pass in the House of Lords at the end of this month.
If all goes as expected, the first babies to undergo the procedure could be born as early as next year.
Babies resulting from embryos that have undergone mitochondrial transfer won't inherit three people's characteristics. The genetic traits that make us who we are — eye color, hair color, your feelings on cilantro — come from DNA in a cell's nucleus, which the procedure doesn't mess with. Altering or engineering that nuclear DNA in an embryo is still illegal under UK law.
But it's not like donating an organ. Changes in the mitochondrial DNA will be passed down to future generations who obviously can't give their consent, which is one reason critics oppose it.