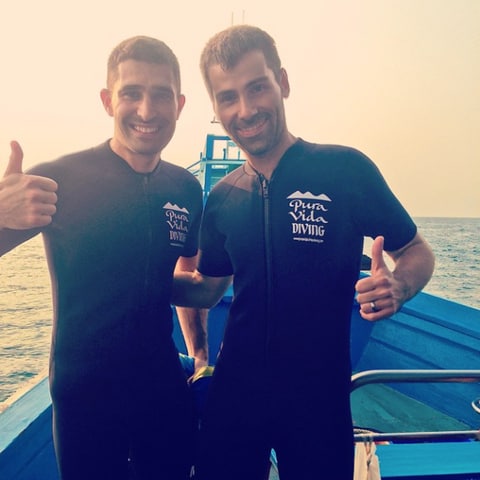 This new series features dispatches from LGBTQ travel writers, bloggers, and photographers who are on the road in far-flung places. If you know somebody who should be featured here, send us an email at [email protected]
Stefan and Sebastien are currently "eating their way through Asia," scuba diving around Koh Lipe and Koh Hin Sorn Islands off the west coast of southern Thailand in the Malacca Strait.
Stefan and Sebastien write a travel blog called Nomadic Boys where they chronicle their adventures and offer travel advice. You can also follow them on Instagram.
Over the Christmas holiday they stayed for a month in Bangkok to plan for a trip to Myanmar in January, and offer some advice on their site for those planning to make that trip, and for those traveling on a budget to Bangkok:
We stayed at HQ Hostel for some of this time, which we found on Tripadvisor and recommend for its location to the gay life in Silom.
We had to first obtain a visa for Myanmar / Burma and then (as Lonely Planet and other online forums warned us) get brand spanking new, perfect condition dollar notes! The Burmese currency exchange shops are very particular about this and reject old notes with the slightest fold, rip or crease.
We found the best agency for the best rates for currency exchange in Bangkok is SuperRich International who can also provide you with new dollars for Myanmar / Burma (most Thai banks we checked couldn't quite do this).
Enjoy a few more Instagram shots from their Thai islands adventure, AFTER THE JUMP…