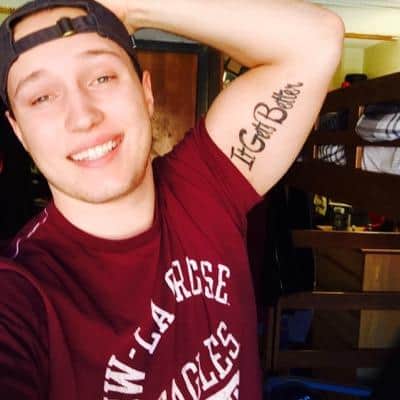 The words "It Gets Better" mean so much to Dalton Ray that he got them tattooed on his arm. 
Ray is a former high school football star who's now a freshman at the University of Wisconsin-La Crosse.
In a post for OutSports, Ray recounts how he struggled with his sexual orientation — both on and off the field — before finally coming out during his junior year of high school:  
Middle school was a challenge, but high school was the true battle for me. Subtle feelings turned into everyday thoughts. It increasingly became clear this wasn't just a phase for me.

To make it even worse I started hearing my peers, including some of my closest friends, use terms like "gay", "faggot", and "queer" to describe when something was stupid or wrong. Eventually that's how I felt – I felt like something was wrong with me, and worst of all I couldn't even look at myself in the mirror because I was so ashamed of who I was. … 

One saying that has guided me through all of this: "It Gets Better." It's hard to realize that when you're stuck in the middle of the country hearing gay slurs every day. As I opened up my true self to people, I learned the power and truth of those three words. It's meant so much that I tattooed it on my arm.
In an "It Gets Better" video accompanying his OutSports piece, Ray — who also competed in basketball and track — says he didn't think it was possible to be an openly gay athlete until he became one:
"I had this huge misconception that you couldn't be in sports and also be gay. That's wrong. That's completely, utterly wrong. I think once I actually came out I became a better athlete. I became a better competitor. I also became a better friend, a better brother, a better son, because I was finally being honest with not just everyone around me, but being honest with myself, and that's an extremely important part of life."  
Ray also has a powerful message for LGBT youth who are contemplating suicide:
"A bad day doesn't mean you have a bad life. If you don't think people wouldn't miss you, you're completely wrong, because you have friends and family and people in your lives that would miss you so much, so don't make them know what it feels like to live without you, because you're special, you're unique, you're an awesome person, and it gets better."
Read Ray's full article here and watch his "It Gets Better" video, AFTER THE JUMP …