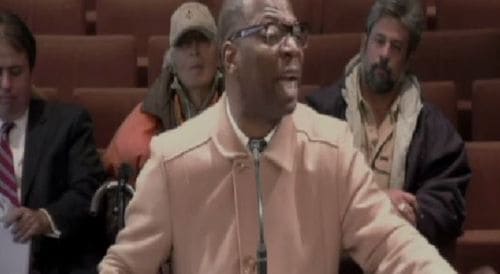 At a Birmingham City Hall meeting earlier this week, outspoken street evangelist Cedric Hatcher took to the podium to voice his extreme displeasure at having to witnessing same-sex marriages take place in his beloved Alabama.
Said Hatcher:
"To me yesterday was one of the most bizarre scenes I ever seen in this city. One of the most comedic scenes I ever witness in public. When I witness men with size 13, 14 shoes out there kissing each other in the mouth in front of little kids. It was just bizarre. It was like a freak scene going on."  
Hatcher went on to make a number of bizarre claims, including:
"I can barely say 'Praise the Lord' in public now. I might go to jail…you can't tell a person to have a blessed day"
On February 9, 2016 you'll be able to marry your dog, cat, snake, rat, roaches, broom, and mop.
The gays are buying up all of Alabama's batteries. 
"Everybody's coming out the closet but the saints."
AL.com notes Hatcher is a regular presence at Birmingham City Hall.
Listen to the rambling diatribe, AFTER THE JUMP…