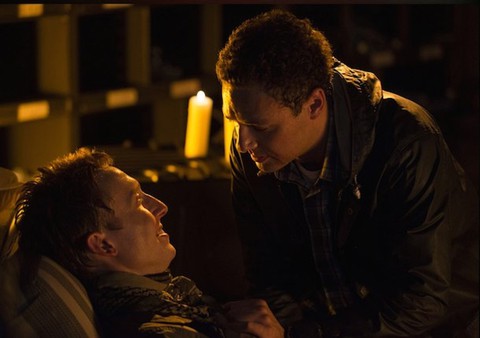 Fans of AMC's zombie-apocalypse series The Walking Dead were treated to a man-on-man smooch Sunday night that ended up setting social media ablaze with talk of the lip-lock. Many fans were upset by the kiss while others were quick to point out that the same-sex oriented loving is right in line with the graphic novel on which the show is based. 
Please take faggots off the walking dead. Wtf. Excellent show but no gays please

— Joseph DeFelice (@jdefelice93) February 23, 2015
Lots of homophobic #WalkingDead tweets saying "da gays" ruined the show Apparently they never read the comic Please go fall off a cliff

— Jessica Dwyer (@JessicaDwyer) February 23, 2015
The irony of any outrage over The Walking Dead's gay kiss is that it comes on a show about zombies, cannibalism and other intensely graphic situations.
I can't believe Walking Dead has two guys kissing. This is totally unacceptable in a show where a 6 year old kills her sister

— Justin (@GigawattConduit) February 24, 2015
Things Walking Dead viewers are okay with: -Gory murder -Cannibalism -Child killing Things they aren't okay with: -Gay people.

— Keifer Lirette (@KeiferLirette) February 24, 2015
But what about the typical host of complainers we're used to seeing come out of the woodwork anytime LGBT love is shown on television? Uproxx thought about that:
Given the show's subject material, it should insulate them from criticism from protest groups. I mean, how can the One Million Moms or the American Family Association or the Family Research Council take The Walking Dead to task for featuring two men kissing when it hasn't objected to scenes of violence, cannibalism, decapitations and rape? Imagine Robert Kirkman's response: "You mean to tell me that you've got no problem with exploding heads or cannibals sawing up human bodies for dinner, but you're going to object to two characters kissing? Because they are men? Even though they love each other? Where the hell are your priorities?! And you'd BETTER not get up in arms about the fact that your children might be exposed to this because your children SHOULD NOT BE WATCHING THE WALKING DEAD. And if they are, seeing two men kiss is the least of your problems."
Actor Ross Marquand, who plays one half of the gay couple, spoke out about the kiss, telling The Daily Beast about the specific responsibility he felt in portraying his character:
It's been a great deal of responsibility to do it justice with respect not only to our gay fan base, but to the viewers in general. My boyfriend, who's played by Jordan Woods-Robinson, and I met as often as we could before we shot that scene and tried our best to get to know each other on a personal level. It was one of the most beautiful scenes that I've had the pleasure of shooting because it dialed into what I think the theme of the show is. This is not a show about zombies; I think it's a show about relationships and the real human connection that we have to one another. When you lose someone, or you feel that you have lost someone, it doesn't matter what the situation is, you mourn them and you miss them and you want them back and you will do anything in your power to protect the ones you love. I hope that that's the focus of our characters, that it's not hung up so much on our sexual orientation.
Watch the kiss for yourself, AFTER THE JUMP…