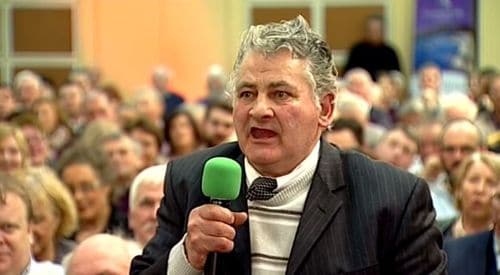 Irish broadcast journalist Vincent Browne held a "People's Debate" in Charleville last week and got an unexpected kick out of one man who flubbed up his rant against gay marriage by mistakenly (and emphatically) yelling into the microphone "We want family values, and we don't want to see men and women getting married!"
The audience and Browne quickly exploded into laughter. 
The Independent reports:
The man, who was initially bewildered by the laughter, soon had it explained to him by another audience member what he had said.
He then demanded the microphone back, and continued on a rant against the majority of Ireland's political parties, including Sinn Fein, Fianna Fail and the Greens.
Ireland is set to hold a public referendum on same-sex marriage in May.
Watch, AFTER THE JUMP…