Jon Stewart will leave his post as host of The Daily Show on Comedy Central after over 15 years on the late night show that uniquely blended political satire with journalism and brought a critical eye to the Iraq War, the Tea Party and the media.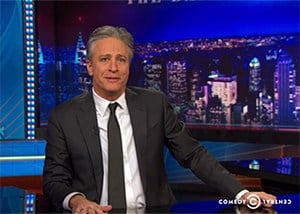 Stewart announced that he would leave the show at Tuesday's taping, saying viewers deserve more than a "slightly restless host," according to a Tweet from CBS News. Comedy Central President Michele Ganeless said:
"For the better part of the last two decades, I have had the incredible honor and privilege of working with Jon Stewart. His comedic brilliance is second to none. Jon has been at the heart of Comedy Central, championing and nurturing the best talent in the industry, in front of and behind the camera. Through his unique voice and vision, 'The Daily Show' has become a cultural touchstone for millions of fans and an unparalleled platform for political comedy that will endure for years to come. Jon will remain at the helm of 'The Daily Show' until later this year. He is a comic genius, generous with his time and talent, and will always be a part of the Comedy Central family."
The show is Comedy Central's longest running program other than South Park. At its peak, "The Daily Show" boasted over 3 million nightly viewers. It has won 19 Emmy Awards, two Peabody Awards, and inspired three popular spin-offs: "The Colbert Report," "Last Week Tonight," and "The Nightly Show."
Speculation has already begun as to who will be Stewart's replacement. It has not yet been announced when Stewart will officially step down.