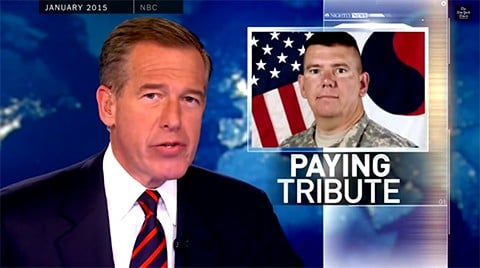 After previously announcing on Saturday that he would step aside from his post as anchor of NBC Nightly News for 'the next several days,' NBC News today announced that Williams will be leaving his post as anchor and managing editor of the news program for the next six months without pay. The decision is effective immediately.
Williams came under heavy criticism after he "misremembered" a story of how a helicopter he was traveling in during the Iraq War came under heavy enemy fire.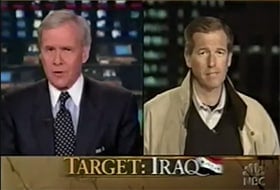 "This was wrong and completely inappropriate for someone in Brian's position," Deborah Turness, the president of NBC News, said in an internal memo. Lester Holt will continue to substitute for Mr. Williams now, the network said.
His departure culminated a rapid and startling fall from grace for Mr. Williams, who at age 55 was the head of the highest-rated evening news show, the winner of top industry accolades, a coveted speaker at dinners and panels and a frequent celebrity guest on entertainment shows.
Mr. Williams has been drawing 9.3 million viewers a night, the most of any newscast. But six months is a long time to disappear from the television landscape, and analysts said it would be difficult for him to re-establish himself as a credible nightly presence.
"I don't know how he can ever read the news with a straight face, or how the public will respond if he does," said Mark Feldstein, a broadcast journalism professor at the University of Maryland, said. On the other hand, he added, "Maybe they're hoping that with a six-month cooling-off period, he's got a loyal fan base." […]
"By his actions, Brian has jeopardized the trust millions of Americans place in NBC News," [Steve Burke, the chief executive of NBC Universal] said in a statement. "His actions are inexcusable and this suspension is severe and appropriate."
Watch a video from the Times about how Williams' remembrance of his coverage of the Iraq War changed over time, AFTER THE JUMP…