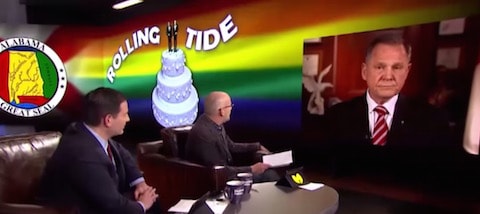 In his own words:
I've had many friends who are homosexual. I've treated people just like other people. This is not about how I treat people or how I go to a wedding or a marriage or anything. It's about the constitution of Alabama and the constitution of the United States and specifically the sanctity of marriage amendment. I would not go to a same-sex wedding.
What a classy guy: he wouldn't attend the wedding of his gay "friends", but he insists he treats his gay friends just like other people. He even tries the fallacious "We don't discriminate against anyone's right to marry. Everyone is free to marry someone of the opposite sex," line of reasoning as if that had any measure of validity. When asked about what the Supremacy Clause of the U.S. Constitution meant to him, Moore proceeded to recite the Supremacy Clause, and then spout a bunch of word salad that, while technically English, had no meaning whatsoever. It's gotta be tiring talking out of both sides of one's mouth. 
The Washington Post is of the opinion that all of Moore's posturing as actually doing more harm to his cause than help, largely because he's pissing off the Supreme Court, which seldom is a good idea:
But as Moore should have learned in the Ten Commandments flap, it ultimately doesn't pay to mess with the Supreme Court. Sooner or later the litigants in the Alabama case are going to name every possible defendant and get an order that sticks. All Moore has managed to achieve so far is to give the nation a glimpse into a hopeful future for the cause he so detests.
You can watch the interview with Moore where he talks about how he really does have gay friends that he doesn't respect AFTER THE JUMP…
And if you missed Moore's explosive interview with CNN's Chris Cuomo earlier today, check that out here.