Billboard snagged a revealing interview with Madonna where the material queen divulged details about her upcoming album, working with other artists, dealing with word policing, her relationship with Catholicism and her thoughts on 50 Shades of Grey. Madonna talked about the production process on her 13th studio album, Rebel Heart, working with collaborators Nicki Minaj, Nas, Diplo, Avicii and Kanye West-who she described as a difficult artist to corral.
Said Madonna:
"Kanye, for instance, has excellent ideas, but it's hard to get him to pay attention. So my job was to keep him focused. I was the mistress walking around with the clipboard going, 'Guys, can you please — can you guys come back in the room? Let's just finish the song. What do you mean you're going to a photo shoot? What do you mean you have to go to a red carpet event? Get off your phone! Will you stop tweeting? Wait, we haven't finished!'"
Madonna went on to talk about the theme behind songs on Rebel Heart saying songs like Joan of Arc display a vulnerable side to her usually stoic persona whereas the album's title song talks about regrets and never looking back. However, Madonna asserts that she doesn't regret any of her career moves.
Said Madonna:
"Everyone has regrets. I have regrets for the smaller things, which ultimately are the bigger things in life. For instance, I regret not being more grateful certain times in my life. I regret not being more compassionate. I regret not saying I'm sorry. I don't have any career regrets. I have human-being regrets.
"As I say in the song Joan of Arc, 'Even hearts made of steel can break down.' Even people we look up to have their moments where they are fragile, vulnerable, scared, fearful, not sure, hurt. You can't be a superhero unless you have the other side."
Despite having "human-being" regrets, Madonna asserts that the word police can "F**k off," after bloggers criticized her for the pervasive use of the word "B**ch" in lyrics and song titles on the album. Madonna cites that her time spent among Londoners and their colorful use of language, including the C-word, desensitized her. Madonna also elaborated on her relationship with the Catholic church, and said that she enjoys the "Pomp and circumstance," of writing and singing about her relationship with religion, and the drama, confusion and hypocrisy of the church. She mentioned that if she had the chance, she wouldn't hesitate to sit down with the Pope for a "Chat about sex." Billboard continued the conversation regarding sex asking Madonna if she read 50 Shades of Grey and she remarked that she found it unrealistic.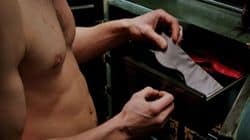 Said Madonna: 
"Yes, I have. It's pulp fiction. It's not very sexy, maybe for someone who has never had sex before. I kept waiting for something exciting and crazy to happen in that red room thing, and I was like, 'Hmm, a lot of spanking.' I also thought, 'This is so unrealistic because no guy goes down on a girl that much.' I'm sorry, but no one eats p**** as much as the guy in that book."
Billboard asked if she felt young women have it easier these days with Madonna responding that it's "No-holds-barred and you can do whatever you like; On the other hand, if you're a pop star and want to get your records played and reach the masses, you have to play it very safe." Madonna was asked what she thought of her role in challenging American taboos and thoughts on pop-star Miley Cyrus. Madonna responded by incorporating Cyrus into her response about what the future holds for women.
Said Madonna: 
"I like her. She seems like she doesn't care what people think. People are always telling her she's dirty or crazy or trashy, and she doesn't care. I love that about her. In her peer group, she stands out.  
"I think it's an ongoing activity in my life. I'm continuing to open doors for the women behind me. I don't know many women who have had a successful career in pop music as long as I've had. And I waited until I was older to have children. I raised children and wasn't married. And I continue to express myself — my sexuality — in my 50's, even though that's also considered taboo, and I get a lot of s*** for it. But in 20 years, Miley Cyrus probably won't get s*** for it. Then, it'll be like, 'Oh, yeah, that's nothing new.'"  
Rebel Heart releases on March 6. Madonna's promotional tactics for the album, including photoshopping portraits of famous civil rights leaders in the style of her album cover and posting it to her social media, is stirring up criticism. It also appears radio isn't a big fan of her either as the U.K.'s Radio 1 completely removed Madonna's new single Living For Love from their station playlist, with a station insider citing that "The station has a duty to meet the needs of younger listeners. I don't think the audience is losing sleep that it is not playing Madonna in the same way that it used to."