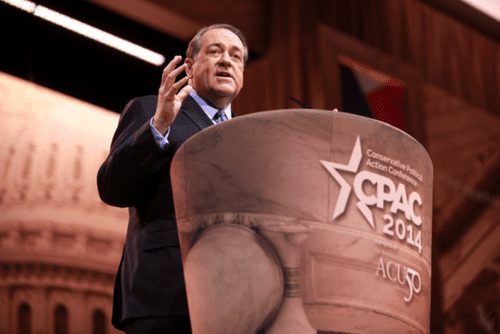 Presidential hopeful Mike Huckabee made a special appearance on Dave Garrison's "Faith & Liberty" radio talk show to promote his new book God, Guns, Grits, and Gravy and to muse about what a Huckabee presidency might have looked like had he been elected when he ran back in 2008.
"Even though he didn't call the family of Chris Kyle, the 'American Sniper,' when he was killed for all he had done for his country, he picks up the phone and calls an NFL football player and congratulates him for being homosexual," he said. "How bizarre is that?"
"Since the president 'came out,' so to speak, you see court after court suddenly deciding that same-sex marriage is just fine; I'm convinced that it's the president having given this legitimacy and sense of authority to the issue that has changed the debate."
For his part of the conversation Garrison bemoaned Right Wing Watch's coverage of his notoriously nutty program, claiming that gay rights supporters were growing increasingly intolerant of others' beliefs.
Listen to excerpts from Huckabee and Garrison's conversation AFTER THE JUMP…