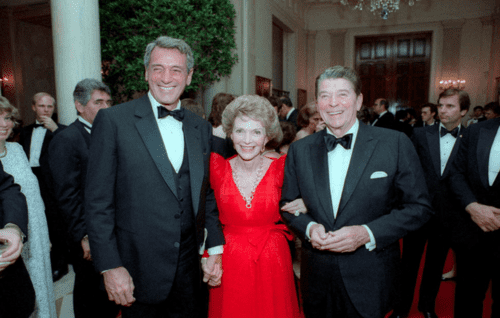 Rock Hudson died of AIDS-related complications in 1985, a year after he is said to have been diagnosed as being HIV positive. In the year between his diagnosis and subsequent death Hudson largely kept his status and deteriorating health hidden from the public while he sought out experimental treatments abroad. According to a lengthy BuzzFeed piece, Hudson's attempts to maintain his health in France were actively impeded by then First Lady Nancy Reagan.
Hudson had been receiving experimental treatments under the care of Dominique Dormant, a French army doctor, since 1984 at a time when funding for HIV/AIDS research in the U.S. was virtually nonexistent. As Hudson's health took a turn for the worse in 1985, however, the actor found himself unable to gain access to a French military hospital, as the doctor was fighting to keep him alive. Via BuzzFeed's Chris Geidner:
As Hudson lay deathly ill in the hospital, his publicist, Olson, sent a desperate telegram to the Reagan White House pleading for help with the transfer.
"Only one hospital in the world can offer necessary medical treatment to save life of Rock Hudson or at least alleviate his illness," Olson wrote. Although the commanding officer had denied Hudson admission to the French military hospital initially, Olson wrote that they believed "a request from the White House … would change his mind."
First Lady Nancy Reagan turned down the request.