Divorce is something that is roundly condemned in the Bible, and depending on the level of conservativeness of one's place of worship, cohabitation – that is, lovers living together without being married; though sometimes even just opposite-sex individuals sharing an apartment counts, even if the two have no romantic connection – is just as taboo. So why is it that that gay marriage has church leaders worked into a froth that exceeds the other two by leaps and bounds? 
Because gay marriage is worse, of course.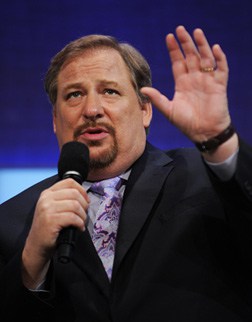 That's right, even though Jesus himself has literally nothing to say about same-sex marriage but explicitly says divorce is a no-no, nearly 50 high-level Catholic and evangelical leaders (including pastor Rick Warren and former NOM Head Maggie Gallagher) signed off on a 5000-word manifesto to be released in the March edition of conservative journal First Things that says,
[W]hat the state defines as marriage no longer embodies God's purposes in creation. An easy acceptance of divorce damages marriage; widespread cohabitation devalues marriage. But so-called same-sex marriage is a graver threat, because what is now given the name of marriage in law is a parody of marriage.
Of course, no anti-gay screed is complete without mention of the good men and women who have lost their livelihoods for standing up for what is right:
[Some people] are already being censured and others have lost their jobs because of their public commitment to marriage as the union of a man and a woman.
Of course, no one has lost their jobs because of their public commitment to heterosexual marriage; they have lost their jobs for refusing to abide by the laws of the land, which in most places now mandate recognition of civil gay marriages, which is a very different thing. But what does the truth matter? It's not like the bible has any mandate against lying, right? At least, not a mandate that's any more explicit and important than the nearly 20 passages about divorce?
Other than that one.