The North Carolina Senate voted 32-16 on Wednesday to approve a bill allowing courthouse officials to recuse themselves from marrying gay couples if they have religious objections to doing so, the Fayetteville Observer reports: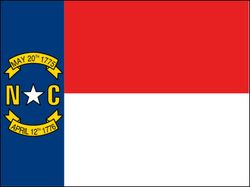 The legislation stems from federal court decisions this past fall that legalized gay marriage in North Carolina. Some magistrates, who officiate civil marriage ceremonies, and assistant registers of deeds, who issue marriage licenses, for religious reasons did not want to perform these services for gay couples. They were told that their oath to uphold the U.S. constitution requires them to do so anyway.
Most Republicans voted for the bill; most Democrats voted against it. Supporters said the bill say it protects the employees' First Amendment freedom of religion rights. Critics said would codify discrimination into state law.
Seven or eight of the state's magistrates have left their positions as a result of having to perform gay marriages, according to statements made during senate debate. The new law would allow them to return to office without losing their benefits.
Other points in the bill are a requirement of the court system to ensure magistrates are on hand at least 10 hours a week, that all couples seeking lawful marriage can have one, and that if local magistrates don't want to perform a gay couple's marriage the state would send one to perform the duty.
NC paper News & Observer is not pleased with it:
Sworn public officials have to do their duty, and this not-so-clever bit of legislating is certain to be found unconstitutional. Magistrates and registers of deeds don't get to cop out of their jobs based on their personal beliefs.
This is amateur hour at the General Assembly, and a petty action that could get expensive. The legislature already has spent nearly $100,000 to have outside lawyers appeal the federal rulings on same-sex marriage. State Attorney General Roy Cooper, a Democrat, wisely decided not to press on with appeals once the U.S. Supreme Court agreed to hear the issue.
The bill now heads to the House.