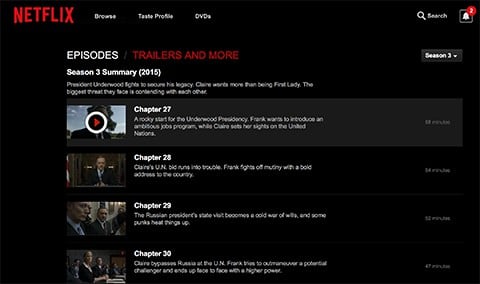 You may need to reschedule or cancel your Valentine's Day plans and call in sick for work tomorrow (and maybe even leave work right now) because Netflix has released season 3 of its machiavellian political drama House of Cards more than two weeks ahead of its original launch date. 
Here's to hoping this isn't a glitch in the system as Netflix's website still lists February 27 as the launch date. 
Head on over to Netflix for your fill of Kevin Spacey, Robin Wright and all that's dark, twisted and delicious about politics.
UPDATE: The third season was removed, made available then removed once again. It appears a technical error may be the cause of the premature release. 
UPDATE #2: The official Twitter account for the show confirmed that season 3 being available early was a mistake. 
This is Washington. There's always a leak. All 13 episodes will launch February 27.

— House of Cards (@HouseofCards) February 11, 2015
[h/t @youngsinick]