New Music: John Joseph Brill, Pile, Sivu, Young Romance, Quarterbacks, Fireworks

New Music is brought to you weekly by Deadly Music!, which covers mostly indie/alternative music as well as electronica, ambient/modern classical, pop and anything really, really good.
Most tracks are available on a Soundcloud playlist, some of them on a Spotify playlist….both of which are embedded at the end of this post.
You can sign up for weekly updates from Deadly Music! at the end of this post.
***
John Joseph Brill – "Pieces"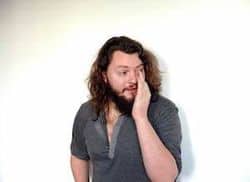 Ahead of his debut release Pieces, English singer/songwriter John Joseph Brill has released a stop-motion video for the EP's brooding title track.
Brill says that "Pieces" is "a raw exploration of one man's internal honesty. There are no fancy frills or special effects, it's completely DIY and as raw as the song is. It wears its blemishes as badges of honour."
The EP features four beautifully crafted songs that are equally affecting as they are anthemic.
Recorded with rising producer Kristofer Harris (Annie Eve, Smoke Fairies, Jay Brown, Bear's Den, Story Books) and Andrew Davie (singer with Bears Den), the EP also features live favourite "Golden Kids" and ghostly closer "Sleeping Beast", as well as 2014's powerful "Muscle & Bone".
Pieces will be released digitally worldwide on February 23rd via Killing Moon Records.
***
Pile: "The World Is Your Hotel"
Boston-based Pile will release the follow-up to Dripping next month on Exploding In Sound.
"Your favourite band's favourite band," Pile make DIY post punk/alt rock for fans of Pixies.
Have a listen to the brilliant "The World Is Your Motel" from new album You're Better Than This.
***
Listen to new songs by Sivu, Young Romance, Quarterbacks and Fireworks, AFTER THE JUMP…
Sivu: "The Nile" (Featuring Rae Morris)
Sivu (above, top), one of the best breakout artists of 2014, has just released beautiful new track "The Nile" as a double a-side for "Sleep," taken from his brilliant debut album Something On High, which was released late last year.
While "The Nile" feels quite romantic as a duet, Sivu actually wrote the song about watching someone close to you pass away slowly and everything you'd want to say to someone you've spent your whole life with beforehand.
Have a listen to "The Nile" and watch Sivu do a fantastic version of "Better Man Than He" with a brass band on a cliff in France.
***
Young Romance: Wild EP
Young Romance is a duo from London, England making retro, twee noise pop that harkens back to acts like The Primitives, We've Got A Fuzzbox And We're Gonna Use It and The Shop Assistants.
With new EP Wild due out in March, have a listen to lead track "Wasting Time" which is an unexpected indie pop gem.
 ***
Pop Punk: Quarterbacks
New York-based trio Quarterbacks offer up short, twee post punk bursts of energy on their self-titled, 19-track, 22-minute album.
Recorded in less than 12 hours, the album is a stupidly energetic outing for fans of Violent Femmes and all that is post / pop punk.
 ***
The Fireworks: Switch Me On
English indie noise pop act The Fireworks released their debut album Switch Me On last week on go-to noise pop label Shelflife.
A perfect addition for fans of feedback/shoegaze/pop punk/noise pop, Buzzcocks, Girls At Our Best!, We've Got A Fuzzbox and We're Gonna Use It! (for the second time this week),The Shop Assistants, Bananarama, Meat Whiplash, Bubblegum Splash
***
Weekly Updates From Deadly Music!
Soundcloud Playlist
Spotify Playlist