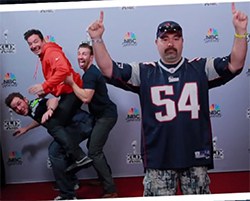 Chris Pratt, Chris Evans and Jimmy Fallon photobomb people at The Superbowl, make man-sandwich.

Why would you make him wear a shark costume?

Harper Lee to publish a sequel of sorts to To Kill A Mockingbird.

Speaking of sequels, John Cameron Mitchell thinks the sequel to Hedwig should be a TV miniseries: "It's darker. It's about the second half of her life, which is the antithesis of 'It Gets Better' videos — for her, it gets worse."

Madonna releases teaser for either her Grammys performance or upcoming music video for "Living for Love" in wake of second album leak. 

These beauty queens know how to throw down.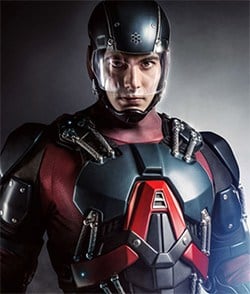 First look: Brandon Routh as The Atom on Arrow.

Inside Edition hires first transgender reporter, Zoey Tur, a.k.a. Chopper Zoey (formerly known as Chopper Bob): "You might know Tur as the macho eye-in-the sky reporter from Los Angeles. She trailed O.J. Simpson's white Bronco on the 405, and she filmed the beating of truck driver Reginald Denny in riots following the beating of Rodney King. She's often credited as a pioneer of helicopter reporting."

British GQ looks at 5 game changing moments in gay rugby player Gareth Thomas' life–one of them being his decision to come out to teammates years before he did so publicly: "After grappling with the burden of hiding his sexuality since his teens, Thomas finally came out to team mates Stephen Jones and Martyn Williams while on Wales duty in 2006. Their response? 'Don't worry, let's have a beer!' He revealed he was gay to the public in 2009, in an interview with the Daily Mail,  breaking one of the biggest taboos in sport. 'I don't want to be known as a gay rugby player,' he said. 'I am a rugby player first and foremost. I am a man.'"

Three French counter terrorism officers attacked while guarding Jewish Center.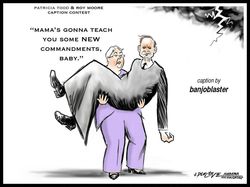 Spot-on comics skewering notable opponents to gay marriage in Alabama HERE and HERE.

Is Felicity Jones the new Princess Leia?

Robin Williams' widow and children are in legal battle over the late actor's will.

Whitney Houston and Bobby Brown's daughter Bobbi Kristina is "fighting for her life" according to family members.

GOP Senator thinks "the market" not government should decide if restaurant employees have to wash their hands after using the restroom.


Matt Lauer blasts "liberal" New York Times for suggesting that childhood vaccination as an issue poses a problem for the GOP.

Hilary Clinton weighs in on the vaccination debate.  
The science is clear: The earth is round, the sky is blue, and #vaccineswork. Let's protect all our kids. #GrandmothersKnowBest

— Hillary Clinton (@HillaryClinton) February 3, 2015