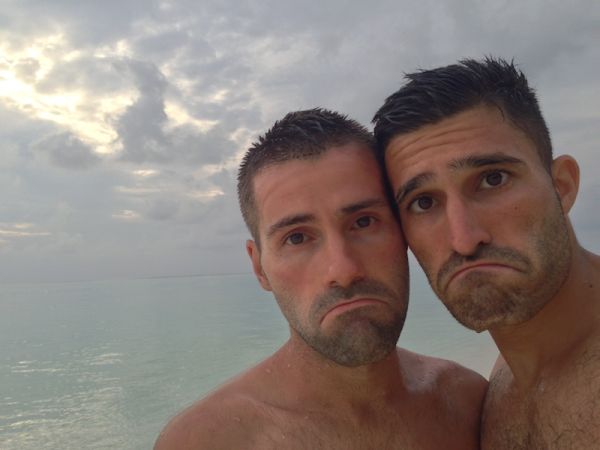 Our reaction to the very backward Muslim Sharia Law rules in place in the Maldives.
Travel correspondents Stefan and Sebastien traveled to The Maldives in November 2014. The Maldives is an island nation in the Indian Ocean made up of 26 atolls known for their coral reefs and crystal blue waters. Stefan and Sebastien are originally from London and France, respectively. Their site is Nomadic Boys.

The Maldives is a Muslim country and unfortunately carries all the usual Sharia Law 'decoration' with it like:
it is illegal for Maldivian citizens to be non-Muslim
women must be covered up at all times – even when going for a jog or swimming in the sea
alcohol is illegal
gayness of any sort here runs the risk of the death penalty…
Gay Maldives: The Reality
We didn't find the Maldives to be as scary as we thought it would be. Fortunately for gay tourists, the Maldivian economy relies heavily on tourism as its main source of income, so there will always be a different view towards foreigners.
CONTINUED, AFTER THE JUMP…
Just don't go expecting to find a gay community or even a gay scene – there just isn't one!
We were also careful to avoid any public displays of affection. We are generally not very flamboyant in public on our travels, China of course, was a slight exception: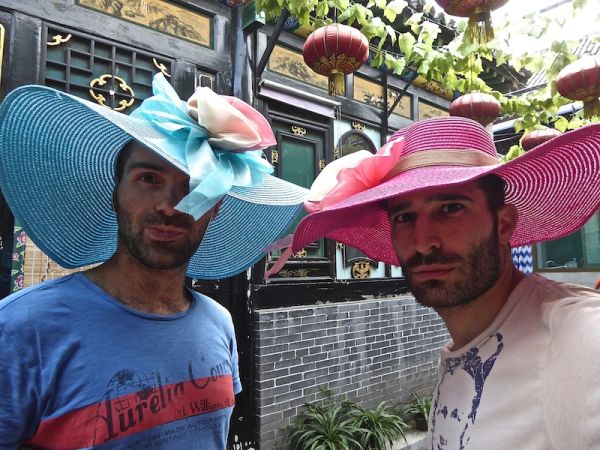 Flamboyant traveling in China with our beautiful hats.
Gay-friendly Accommodation in the Maldives
Generally speaking, well known private resorts such as the Hilton Conrad or the Sheraton welcome gays, so it is fine to book a double bed with any of these resorts. And alcohol is also usually allowed on these private islands.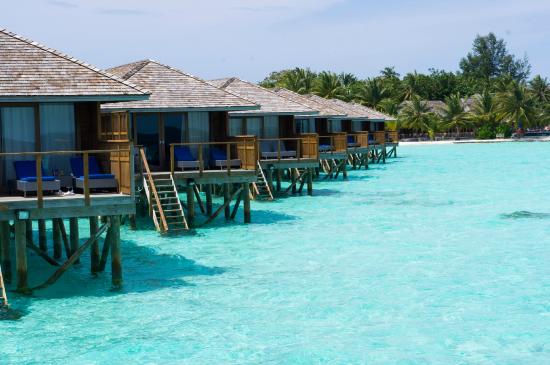 Private island resorts welcome gays and also offer very often unlimited "all you can drink" packages.
To Go or Avoid?
In practice we found the Maldives to be no different to any other developing country in Asia struggling to accept homosexuality. If you're discreet, you won't experience any problems at all.
We stayed at a guesthouse on a local island called Thoddoo and were cautious to book twin beds not double. With hindsight we found the locals to be more relaxed towards tourists then we thought and unlikely to ferry in the Maldivian police to have us arrested.
The most attention we attracted was being asked if we are brothers.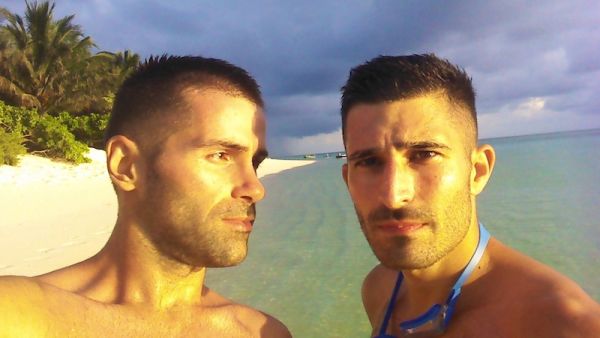 Do we really look like 'brothers'??!!!!
We also had the private bikini beach all to ourselves as the locals don't use it. We felt comfortable to be a bit more docile with each other there.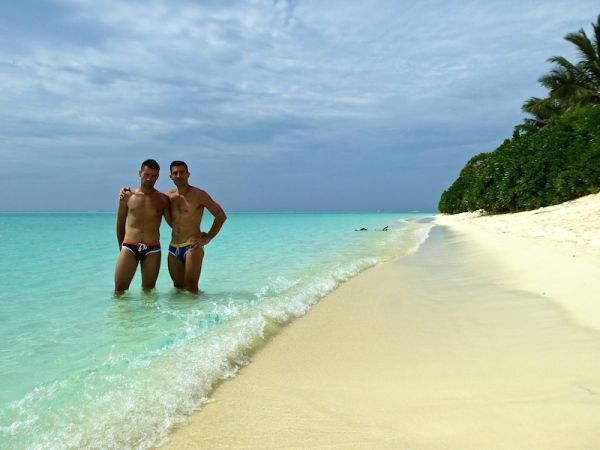 Nomadic Boys on the bikini beach of Thoddoo island.
The story of a very unfortunate gay Maldivian blogger
We read about an openly gay and secular Maldivian blogger called Ismail 'Hilath' Rasheed who had his throat slashed outside his home in Malé (the capital of The Maldives) after years of campaigning for free speech, religious tolerance and secularism.
Fortunately he survived and fled to Sri Lanka. The offending blog (www.hilath.com) has been taken down, but he is still semi-active on his new blog.
However, news like this really did put us on edge before arriving in the Maldives, hence our overly cautious nature when visiting this beautiful country as a gay couple.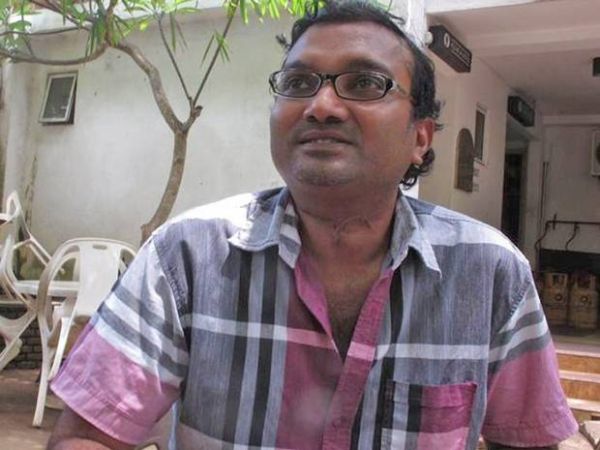 Gay blogger Ismail 'Hilath' Rasheed who had his throat slashed in April 2013.
This item previously appeared on Nomadic Boys.
Nomadic Boys are Stefan Arestis and Sebastien Chaneac. You can visit their gay travel blog HERE and follow them on Instagram, Facebook, or Twitter.