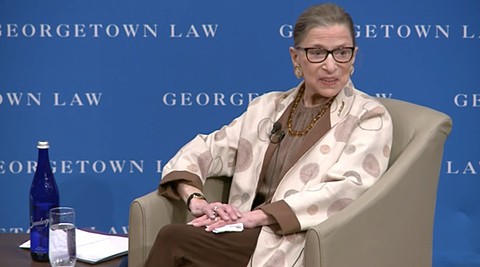 "If I had any talent in the world, any talent that God could give me, I'd be a great diva."
SCOTUS Justice Ruth Bader Ginsburg sat down at Georgetown this week for an interview.
She was asked about the cases the Court has heard and about which ruling she might undo if she could, the Guardian reports:
….it would be the Citizens United decision. "I think our system is being polluted by money," Ginsburg said.
Ginsburg said she is optimistic that "sensible restrictions" on campaign financing will one day be in place, quoting her late husband Martin Ginsburg to explain why: "The true symbol of the United States is not the eagle, it's the pendulum – when it swings too far in one direction, it will swing back." …
Ginsburg's long fight for gender equality may have led some to believe she would pick the Hobby Lobby ruling, which allows corporations to be exempt from providing healthcare that covers women's reproductive services on religious grounds. But she said the many recent and aggressive attempts to restrict women's access to health services could be stopped.
On the subject of women, she discussed the career challenges she was faced with, answered another question she gets asked a lot: "When will there be enough women on the Supreme Court."
Watch her answer that question perfectly, AFTER THE JUMP…