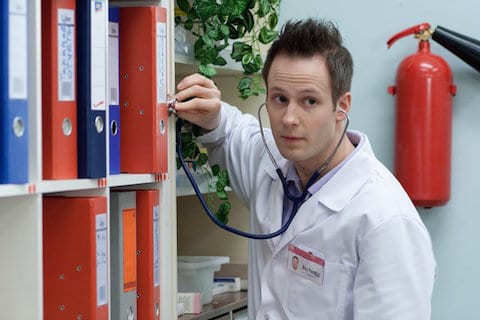 Interns is the Russian equivalent of Scrubs: a handful of doctors-in-training deal with the day-to-day shenanigans of life in a hospital under an unreasonable boss while the main protagonist drifts in and out of wacky daydreams. Though the viewership is at best half of that of Scrubs, Interns' 3.7 million viewers per episode makes it one of Gazprom-Media's flagship programs.
Odin Biron from Duluth, MN plays Phil, the fish-out-of-water American trying to navigate life in Russia, and due to the program's success Biron has found himself with unexpected celebrity status and is the de facto face of America in Russian pop culture.
Needless to say, it is a very big deal that he is a gay man.
Biron exists in that awkward space of publicly closeted and privately out: his family and very close friends know, but his workplace and the Russian populace at large are unaware, at least until now. Biron had good reason to keep it to himself beyond the general anti-gay sentiment pervading Russian culture. His co-worker who plays his boss – sort of the Dr. Cox role, to continue the Scrubs comparison – is Ivan Okhlobystin, the popular Russian actor, sci-fi writer, and aspiring politician who thinks gays should be burned alive in ovens.
Okhlobystin was actually rather fond of Biron; so much so that when Okhlobystin greets Biron with smiles and hugs he promises, "'Odin, I'm gonna bomb the crap out of America, but I'm gonna save Minnesota because of you.' " His tune has since changed, attacking Biron on Twitter by calling him a "sodomite", banged his head against the wall, and "cursed fate", asking God to protect him from this "devilry". 
Presently Biron is splitting his time between Minneapolis and Moscow and has enrolled in culinary school in the States and is entertaining the idea of opening a theater, restaurant, or both, but first he has the sixth season of Interns - complete with very awkward script readings – to look forward to.