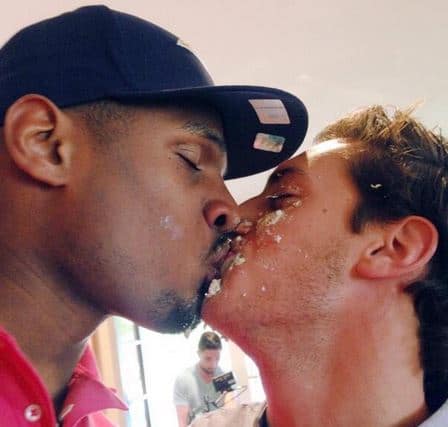 It was one year ago today that NFL prospect Michael Sam came out as gay. 
The St. Louis Rams later drafted Sam in the seventh round, and he appeared in four preseason games before being cut. The Dallas Cowboys then added him to their practice squad before also cutting him. 
Since then, Sam hasn't gotten any calls from other teams, but he has applied for one of 100 spots at the NFL's first veteran combine next month. 
CBS Sports reports: 
About a month ago, the NFL announced that it would hold the first-ever veteran combine in Arizona on March 22, to correspond with the location and timing of the NFL owners meetings, which will be held in Arizona from March 22-24 this year.





NFL director of football development Matt Birk sent out a memo in January in which he called the current free agent process inefficient and said, "There's a void there. There was nothing for that guy out there who has one or two or three years in the league and is not with a team and is at the mercy of when the phone rings or when his agent gets him a workout. This will be a forum for these guys to showcase their talents and a service for our clubs instead of [what had been] an inefficient process."

One of the players who hopes to be extended one of about 100 invitations is apparently former St. Louis Rams and Dallas Cowboys defensive end Michael Sam, who fits the description of the kind of player referenced in the league memo.
USA Today reports that if Sam isn't invited to the veteran combine, he has a one-year contract offer from the Canadian Football League's Montreal Alouettes.
Sam, 25, isn't doing media interviews, his publicist, Chris Licata, said in an email. He most recently was seen publicly as part of a Coca-Cola ad during Super Bowl XLIX. He has not received another NFL contract offer, even though rosters expand to 90 in the offseason.

But Sam is expected to be back in the football spotlight soon. The former University of Missouri standout has applied for one of about 100 spots in the NFL's first-ever veteran combine. The hope is that leads to an NFL contract offer and a chance to go to training camp. If not, a one-year contract offer from the Canadian Football League's Montreal Alouettes is waiting for him.

Tear up the CFL for a year, and Sam could find a greater market south of the border, though not everyone believes the primary reason for his unemployment is that he hasn't shown he can play. 
In a long post at OutSports marking the one-year anniversary of Sam's coming out, Cyd Zeigler explains why he believes Sam has been shut out of the NFL. 
For example, Sam is the only prospect in the last 20 years who didn't make an active NFL roster after being named Defense Player of The Year in a major college conference and being drafted. And he is one of two defensive ends, out of 20, who recorded similar stats in the preseason but did not make a season-long practice squad or active roster.   
Ziegler told USA Today: 
"A year ago, history was being made, and that history got put on hold," said Cyd Zeigler, an advocate and co-founder of Outsports.com who has chronicled Sam's story from the start.





"No one I talk to seems willing to tell me why. But I get the sense from everyone that they have a really good idea of why. And it's not his performance in college, and it's not his performance in the preseason. Nobody will say what the pink elephant in the room is." … 

"But they're thinking the same thing," Zeigler said. "Michael Sam is not on a team because he's gay. If Michael Sam had never come out of the closet, he would be on an NFL roster today. Period."