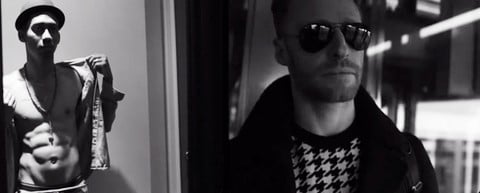 Singing-songwriting duo Matt Gould and Griffin Matthews have shared a new music video for their song "Invisible Thread", directed by Andrew Keenan-Bolger (Tuck Everlasting, Newsies), telling the true story of their experiences as aid workers in Africa. The real life couple share their struggles in the video as they attempt to keep their lives connected across space and time. The song originally comes from their musical, Witness Uganda.
The video is also being used to raise funds for students in Uganda, a country that has been anything but friendly to the LGBT community as of late. From Gould and Matthews' crowdfunding page:
In light of political developments regarding the outlawing of homosexuality in Uganda over the last year, we decided not to put our students at risk by featuring them in videos with us.  Rather, we shot a music video of our song, Invisible Thread, and use it as a way to celebrate people all over the world who are fighting for their right to love whom they choose. 
We believe that education is the greatest deterrent to intolerance and hatred.  With your help, we can send four of our students through their final semester of college and help them to become the next generation of enlightened leaders in Uganda.
Watch the video for "Invisible Thread", AFTER THE JUMP…
And you can check out Gould and Matthews' crowdfunding page HERE.