Pope Francis has come out against gender theory in a new book, comparing the idea that gender identities can exist along a spectrum to the destructiveness of nuclear weaponry, according to The Catholic Reporter: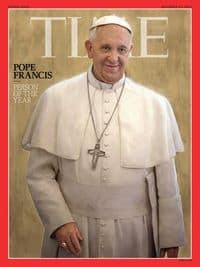 …[he] says that every historical period has "Herods" that "destroy, that plot designs of death, that disfigure the face of man and woman, destroying creation."
"Let's think of the nuclear arms, of the possibility to annihilate in a few instants a very high number of human beings," he continues. "Let's think also of genetic manipulation, of the manipulation of life, or of the gender theory, that does not recognize the order of creation."
"With this attitude, man commits a new sin, that against God the Creator," the pope says. "The true custody of creation does not have anything to do with the ideologies that consider man like an accident, like a problem to eliminate."
"God has placed man and woman and the summit of creation and has entrusted them with the earth," Francis says. "The design of the Creator is written in nature."
The book, Pope Francis: This Economy Kills, "recounts and analyzes the discourses, documents and interventions of the pope on the themes of poverty, immigration, social justice, and safeguarding of creation" according to the paper.
Pope Francis met with a transgender man in late January. The man had written the pontiff after being rejected by fellow parishioners. The meeting was seen as a significant gesture by human rights groups.