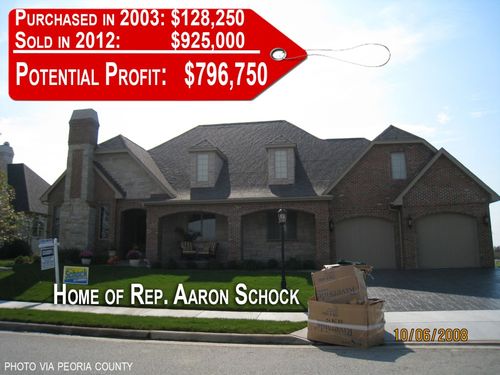 Illinois Rep. Aaron Schock's week continues to go downhill, following revelations that his Downton Abbey-inspired office redecoration may have been done for free. CREW filed an ethics complaint about the office this week.
Yesterday, Schock's senior aide Benjamin Cole resigned after several blogs uncovered racist Facebook posts he had written in 2013.
Now, Blue Nation Review is examining what they're saying is a shady real estate sale Schock made to GOP and Schock donor Ali Bahaj – then a Vice President at Caterpillar – and his wife Gloria, selling his home to them "more than three times the tax assessed value of the property."
BNR adds:
Congressman Schock has carried water repeatedly in Washington, D.C. for Caterpillar, even going on FOX News …to defend the company against what he claimed were "outrageous" attacks that "demonize" the company for avoiding $2.4 billion in taxes by shifting profits to a Swiss subsidiary. In fact, just last month, Schock defended the company's move to lay off workers by blaming the problem on President Obama – a statement that earned him a rebuke from the State Journal-Register in Springfield.
What else could possibly turn up?