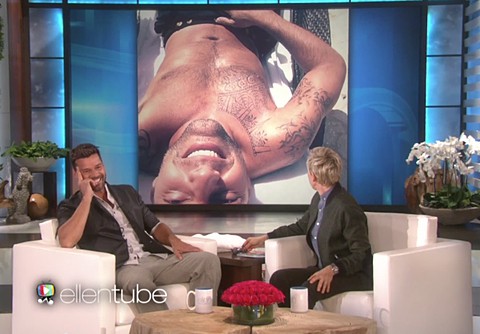 Ricky Martin is making the media rounds with his new album A Quien Quiera Eschuchar ("To Whomever Wants to Listen") but Ellen DeGeneres was focused on his social media accounts, particularly the shirtless selfies he often posts to Instagram.
"Something happens every moment that I feel like taking that kind of picture. It's like once a month. It's not every day."
Watch, AFTER THE JUMP…
Martin elaborated in an interview this week with PrideSource:
I just want to let people know how normal my life is, and I try to do it with a simple picture – that's what Instagram is about. So the other day I was laying in the sun and I was like, "Hey everyone, I'm here. I'm in a good place." You know, I'm a little bit obsessed with social media, to be honest. That's the first thing I do in the morning. I check out my Twitter, my HeyHey account, Facebook and Instagram, and I read what people have to say and what they need from me as an artist. It's fun, man.
Martin also talked about being single:
To be honest, I love being in a relationship…I love waking up in the morning and, if you're not with your boyfriend, (sending) that first message or text in the morning: "Hey baby, how ya doing? I hope you're fine. I just woke up. I'm doing this and this and this today." I loooove that. I really do. And I love picking up my phone and waiting for that reply from that text – it's great. But at the same time, right now, I'm enjoying being single. I'm enjoying this process. I'm not saying that I don't want to be in a relationship – I would be lying to you. I love being in love.