This weekly travel column is brought to you by ManAboutWorld, an immersive digital premium gay travel magazine from Billy Kolber, Ed Salvato, Kenny Porpora, and nearly 75 Global Correspondents.
Thanks to President Obama's recent initiative to thaw relations with Cuba, our geographically near (yet ideologically distant) neighbor, it's now a little easier to go. But don't expect to hop on a plane, grab a hotel and hit the beach on your own just yet.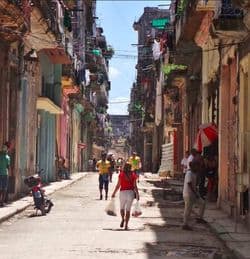 There are still restrictions in place, specifically with respect to pure leisure tourism — it's still not legal for Americans, who must travel under a general or specific license (i.e., visa). Check out this comprehensive Q&A in the New York Times and visit our blog for further information.
So how exactly do you go gay to Cuba?
There are quite a few gay tour operators running fantastic trips to get you to Cuba safely and (mostly) legally. Our friend Matt Smith has a licensed group for Cuba's Pride Week May 4-10, 2015, and a license to do custom People-to-People trips if you're looking for something customized. As a Canadian company, Out Adventures presents the most leisure-oriented of all the LGBT tours, with departures scheduled March 7-15 and December 27, 2015-January 4, 2016. (U.S. citizens may join at their own risk and in six years of running tours, they've brought a number of U.S. citizens without a problem — inquire directly with them for details.)

Coda International Tours — March 8-15 — explores the art and food scene of Havana before heading to Cienfuegos; HE Travel's April 14-19 trip focuses on the life and work of Tennessee Williams with an elegant reception at the National Museum of Fine Arts; Detours With Matt, during Cuban Pride Week from May 1-11, includes Old Havana and encounters with Cuban nationals, plus a Pilgrimage to La Guarida, a restaurant based in the apartment where Strawberry and Chocolate was filmed; and Zoom Vacations takes their third trip to Cuba, from December 28-January 2, where guests can ring in the New Year at a beachside all-inclusive resort with white sand beaches to experience all the art, culinary and culture Cuba has to offer.
For more opinionated travel information and inspiration, get ManAboutWorld Magazine on iTunes (iOS) or Google Play (Android).
Image credits: Top: Luis Guillermo Pineda Rodas; right: Gareth Williams bottom: Thomas Leuthard