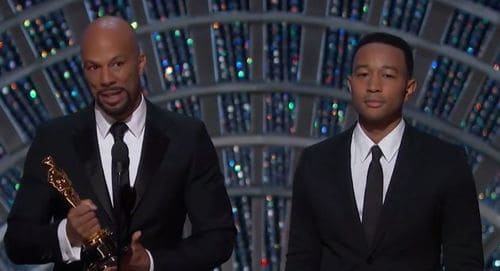 Musician John Legend and rapper Common gave a moving award acceptance speech at the Oscars, with Common saying that the bridge Martin Luther King Jr. crossed on his march from Selma to Montgomery is no longer just a symbol for the Civil Rights Movement, but is now a symbol for any discrimination based on "race, gender, sexual orientation and social status," reports Billboard.
The duo's song Glory, featured in Selma, won the Oscar for best original song. Common went on to say the symbol of the bridge connects people around the world, from those fighting for freedom of expression in France to those fighting for Democracy in China. Legend also took the opportunity to touch on incarceration rates among black men in his speech.
Said Legend:
"Nina Simone said it's an artist's duty to reflect the times we're in. Selma is now because the struggle for justice is right now. We live in the most incarcerated country in the world. There are more black men under correctional control today than there were in slavery in 1850."
Cameras panned to David Oyelowo, who played Martin Luther King Jr. in Selma, during Common's acceptance speech with visible tears in his eyes. Fellow co-star and Selma producer Oprah Winfrey, seated next to Oyelowo, was also shown filled with emotion. Watch Common give his touching speech AFTER THE JUMP…