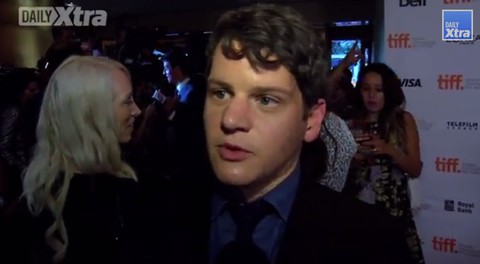 Screenwriter Graham Moore's Oscar speech Sunday night captured the hearts of many with his clarion call to young viewers to "stay weird" in the face of being ostracized by those who perceive them as "different." 
Moore won his Oscar for his script for The Imitation Game, a film about gay World War II hero Alan Turing who knew a thing or two about being different. 
Back at 2014's Toronto International Film Festival, Moore spoke with Xtra Online about why he is so passionate about the story of Alan Turing and why he felt compelled to tell it:
I think there could be a young Alan Turing out there today, a genius who is being discriminated against in his or her own time for reasons beyond his or her control. I think that's why I wanted to write the story, that's why I became obsessed with the story of Alan Turing…I was an outsider as a kid, I felt different than everyone else growing up around me and Alan Turing is a testament to that, to what someone outside of the mainstream can achieve, and is capable of."
Moore recently clarified that he is not gay and that it was the broad strokes of Turing's story that resonated with him more than just his sexual orientation. 
Watch the interview, AFTER THE JUMP…