The Imitation Game screenwriter Graham Moore, who last night won the Academy Award for Best Adapted Screenplay, spoke backstage following his "Stay weird. Stay different" acceptance speech about why he chose to do a story about gay World War II codebreaker Alan Turing in the first place.
Said Moore:
"I've been obsessed with Alan's story since I was a teenage. I feel very lucky to have known it when I was very young and to know about him. He was always a tremendous hero of mine. He always seemed like sort of the 'outsiders outsider.' This guy who never fit into his own time for so many reasons: because he was the smartest man in every room that he entered, because he was a gay man at a time when that was not simply frowned upon but was literally illegal, and then because he was keeping all these secrets for the government…"
Contrary to what some outlets (and viewers) assumed, however, Moore is straight. 
Buzzfeed reports: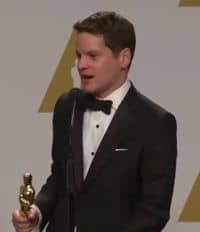 Though many assumed that Moore was gay because of his connection to Turing, at the Governors Ball after the ceremony, he told BuzzFeed News, "I'm not gay, but I've never talked publicly about depression before or any of that and that was so much of what the movie was about and it was one of the things that drew me to Alan Turing so much. I think we all feel like weirdos for different reasons. Alan had his share of them and I had my own and that's what always moved me so much about his story."
And when it came to his incredible speech, Moore admitted that he'd thought about it, but didn't have every word planned out. "I am incredibly superstitious, so I had it loosely in my head," he told BuzzFeed News. "It's the kind of thing that I've imagined since I was a teenager. It was weird to get on the stage and say the things that I've been imagining in the shower and in front of mirrors. I think everyone practices their Oscars acceptance speech with a shampoo bottle and I've done my fair share of them. It's really surreal to be able to do it in real life."
Watch Moore field questions from the press backstage, including why it was important for him to "spread [Turing's] legacy" to a new audience of people, AFTER THE JUMP…