Tom Ford offered a few "snippets of insight" about his next film project to WWD this week, in an interview about his fall fashion show which took place last night in Los Angeles. The new film would be the follow-up to the critically-acclaimed A Single Man.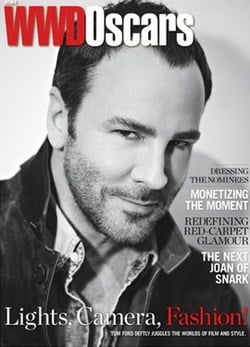 Though Ford won't discuss title or plot lest he divulge secrets too early and bore himself along the way, he provides snippets of insight. He wrote the screenplay himself, finishing it in September. It's an adaptation of a novel for which he bought the rights, not a well-known book and all the better for that. At this point at least, he has little interest in taking on material pre-loaded with audience expectations. He has changed the title and made considerable revisions to the story. As planned, the film is in two parts, the first faithful to the original material, and the second, completely new.
…
Unlike most directors, whose schedules and deadlines are project-based, Ford must work around an intractable fashion calendar. His narrow shooting window runs from Sept. 15 through December. If for some reason the film doesn't come together in time, his next opportunity is the same time, next year. "I only need six weeks," he says, noting that editing will be more flexible; he can set up a room in London. He shot A Single Man in 21 days: "I paid for it myself."
Ford also spoke about the challenges of adapting a book for film:
"A book is a book; a film is a film. They are totally different things. Sometimes things are subtle in a book because there's an inner monologue with the character, and turning it into a film, you don't have that inner monologue—unless you do, which I don't love.…You have to have something personal; you have to take what speaks to you about a book and amplify that. It's impressionism, in a way."
Check out a video of Ford's fashion show last night in L.A., AFTER THE JUMP…
Read the full interview here.