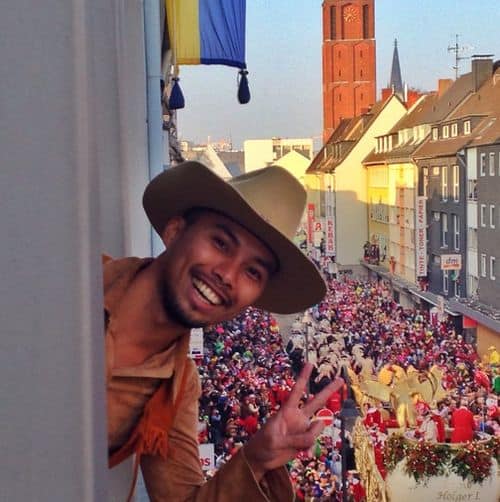 Writes DJ Yabis on Instagram: "Yeehaw! Best spot to watch #CologneCarnival 🎉🎶🎉🎶 #asianfingers #notapresstriphashtag"
This new series features dispatches from LGBTQ travel writers, bloggers, and photographers who are on the road in far-flung places. If you know somebody who should be featured here, send us an email at travel@towleroad.com.
DJ Yabis is a travel writer and trip planner who has traveled to more than 100 European cities in the last three years. Currently he's in Cologne, Germany where there is an annual carnival underway, similar to Mardi Gras in New Orleans, and he's been posting a few images and clips to Instagram.
Today marks the culmination of Germany's weeklong Carnival festivities highlighted by a long, raucous costumed parade, lots of drinking and singing. Carnival ends at midnight between Tuesday and Ash Wednesday. While the festival has religious origins it has a political dimension as well.
Bloomberg reports that this year the Rose Monday parade (which took place today) gave a nod to Charlie Hebdo:
A float featuring a clown watering a garden of pencils with the words "freedom to joke" led the traditional Rose Monday parade through the streets of the old town on Monday. Authorities previously rejected as too provocative a motif by the Koelnische Karnevals-Gesellschaft von 1945 e.V. with the clown blocking an Islamist terrorist's gun barrel with a pencil.
DJ posted a few videos from the parade in Cologne, which travels through the old city. You can follow him on Instagram here or his blog here.
More, AFTER THE JUMP…
And find out more about Gay Cologne, here.