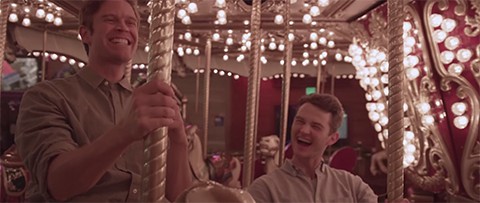 To promote his new book, The Thing I Didn't Know, author Brent Hartinger had a novel idea to build interest in his latest work: create a song and music video inspired by the book. With the help of musician Brett Avery and filmmaker Jeremy Ward, Hartinger set off on his journey.
Towleroad readers may recall Hartinger's previous effort, The Geography Club, which was adapted into a feature film. The Thing I Didn't Know continues to follow that book's protagonist Russel Middlebrook as he matures into adulthood:
"Russel Middlebrook is twenty-three years old, gay, and living in trendy Seattle, but life isn't keeping up with the hype. Most of his friends have a direction in life—either ruthlessly pursuing their careers or passionately embracing their own aimlessness. But Russel is stuck in place. All he knows is that crappy jobs, horrible dates, and pointless hook-ups just aren't cutting it anymore."
When turned into a song and music video, the end result is romantic and endearing. The video stars Hans Iverson as Russel and Randall Brammer as his beau, Felicks.
Catch a case of the awws, AFTER THE JUMP…