An Iowa Senate subcommittee voted 2-1 on Wednesday to advance a bill banning harmful gay "conversion therapy" for minors, the Des Moines Register reports: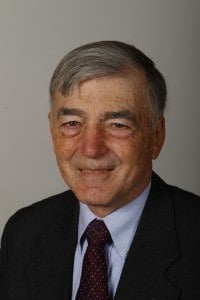 Most people who spoke at Tuesday's hearing supported the ban, including support from some religious organizations.
Tom Chapman, executive director of the Iowa Catholic Conference, said his organization was in support of the bill, though he did express concerns about how it may affect counselors at private Catholic schools. He said he spoke about the bill with counselors at Catholic Charities, as well.
…After hearing an hour of testimony, the subcommittee voted to amend the bill so that it would also protect individuals from conversion therapy based on their gender identity, though it stopped short of extending those same protections to transgender individuals.
Sen. Julian Garrett (pictured), the subcommittee's sole Republican, was the dissenting vote.
California, New Jersey, and D.C. have passed laws banning gay "conversion therapy". A similar bill is under consideration in Illinois. Recent attempts to pass the legislation in Virginia and New York have failed.