Wyoming's House of Representatives on Tuesday rejected an LGBT non-discrimination bill, the Casper Star-Tribune reports: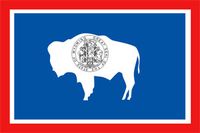 Senate File 115 failed, with 33 opposing it, 26 supporting it and one lawmaker excused.
The bill would have added "sexual orientation or gender identity" to a handful of state laws that protect people regardless of their race, creed, age, pregnancy, disability and other classes.
The state Senate had passed the bill in early February.
You may recall that a House panel advanced the bill last Friday after ejecting Rep. Harlan Edmonds of Cheyenne. Edmonds had proposed an amendment to the bill that would have made it effective "when Hell freezes over."