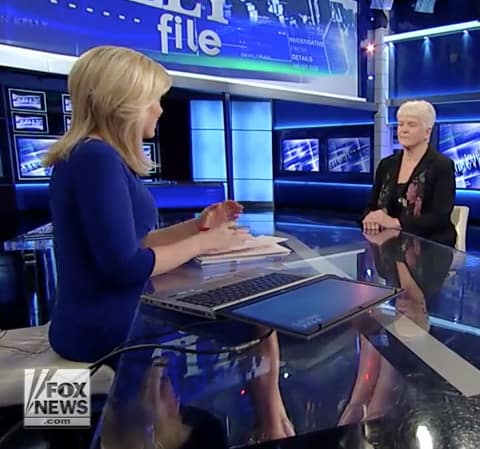 For two years we've been reporting on Baronelle Stutzman, the Washington florist who was found to be in violation of the state's anti-discrimination laws for refusing to provide flowers for a longtime gay customer's wedding. Stutzman said doing so would violate "her relationship with Jesus Christ."
Stutzman was offered a generous settlement offer of a $2,000 penalty, a $1 payment for court and legal fees, and an agreement "not to discriminate in the future," but refused it, preferring to be a martyr for her cause.
Media Matters notes that Stutzman has found a prominent ally in her crusade: FOX News.
On the February 23 edition of The Kelly File, guest host Shannon Bream conducted the first ever television interview with Stutzman, along with an attorney from the extreme anti-gay group Alliance Defending Freedom (ADF), which is representing her. Bream has a history of championing the right to discriminate against gay customers, coming to the defense of business owners who violate non-discrimination laws and suggesting that gay customers should "just go down the street" and find someone who is willing to serve them.
Throughout the interview, Bream helped depict Stutzman as a victim who risked losing her home and livelihood because of the state's non-discrimination law…
…Fox News has used stories like Stutzman's to make the case for draconian "license-to-discriminate" laws that would give business owners broad discretion to refuse service to gay customers on religious grounds. These laws, unsurprisingly, are largely being crafted by ADF, which has been all-too-eager to use Fox News to bring national attention to its pro-discrimination legal work.
Watch FOX News eat up Stutzman's sob story, AFTER THE JUMP…