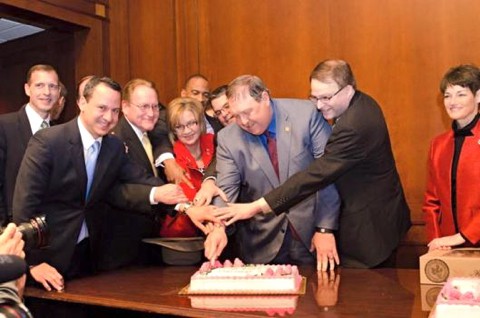 Alabama Chief Justice Roy Moore is taking his anti-gay-marriage show on the road. From a press release:
Conservative Republicans of Texas, Campaign for Texas Families, and other conservative organizations and leaders will sponsor a Defense of Texas Marriage Amendment Rally on the south steps of the Texas Capitol on Monday, March 23, 2015 at 1:00 pm.  Alabama Supreme Court Chief Justice Roy S. Moore will deliver a keynote address describing his continuing efforts to preserve Alabama's right to determine the definition of marriage.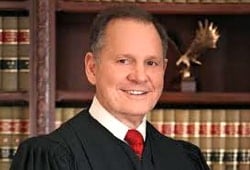 Moore and the rest of the state Supreme Court issued a decision this week halting same-sex marriages, temporarily, in Alabama. Of course, marriage equality hasn't arrived in Texas, but presumably Moore will be providing tips on what to do if and when that happens.
Not that Texas legislators really need any such advice. They've already introduced legislation to bar county clerks from issuing same-sex marriage licenses. And Texas Attorney General Ken Paxton is seeking to void the marriage of a 30-year lesbian couple, one of whom has ovarian cancer. Frankly, Texas legislators probably shouldn't be taking advice from Moore, since he was unable to stop same-sex marriages from occurring in Alabama for several weeks. 
From the press release: 
Marriage is a God ordained institution between a man and a woman and it is the fundamental foundation of families and of ordered societies: "For this cause a man shall leave his father and his mother, and shall cleave to his wife; and they shall become one flesh" (Gen. 2:24, Matt. 19:5).

In the November 8, 2005 General Election, the citizens of Texas passed, by an overwhelming margin of 76% to 24%, a Marriage Amendment to the Texas Constitution, Article 1, Section 32, which provides that "Marriage in this state shall consist only of the union of one man and one woman."
The press release doesn't mention that turnout in that election 10 years ago was 18 percent, or that some polls show more Texans now support same-sex marriage than oppose it: 
The purpose of this rally is to protect and preserve Biblical marriage. The Texas Legislature and state legislatures around the country can stop the federal courts' encroachment on states' rights to determine the definition of marriage. Rep. Cecil Bell, Jr., and Sen. Charles Perry have filed legislation that would prohibit any state or local government employee from issuing marriage licenses in violation of the Texas Constitution.  It would also prohibit the expenditure of taxpayer dollars for that purpose. The legislation is aimed at preserving Texas' right to determine how marriage is defined.
We all know nationwide same-sex marriage is likely coming in June. With any luck, the 5th U.S. Circuit Court of Appeals will lift a stay of a federal judge's ruling striking down Texas' marriage ban prior to Moore's visit. If that happens, several Texas county clerks have already committed to issuing same-sex marriage licenses. Wouldn't it be nice if gay couples could join Moore on the Capitol steps to cut their wedding cakes?