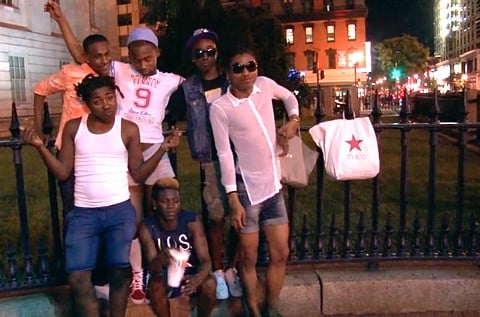 Filmmakers Toby Oppenheimer and Dana Flor spent the last three years documenting America's only all-gay or trans gang, a group of approximately 200 African-American teens in Washington D.C. called 'The Check It', according to a crowdfunding appeal for their new film.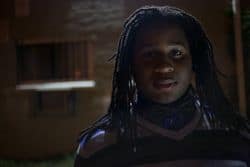 The film follows three bullied teens and tells the story about how they started the gang, VICE reports:
The group formed to provide members safety in numbers and let people know that if you jumped a gay kid in DC, you'd likely get jumped back in retaliation. … Unlike other gangs, the Check It aren't tied to a specific geographic location. They hang out at each others' houses, mostly, as well as a local Denny's and the Chinatown and Gallery Place Metro stations. And they didn't have to do much to spread their name. A local go-go band called ReAction wrote a song about the gang and name-checked individual members. That meant people like [Trayvon] Warren (pictured) had a certain amount of notoriety, which allowed him to go to pretty much any neighborhood in DC without people giving him much trouble for being, as he and his friends put it, "faggie."
Write the filmmakers:
At first glance, The Check It, our documentary subjects, seem to be unlikely gang–bangers.  Some of the boys wear lipstick and mascara, some stilettos. They carry Louis Vuitton bags, but they also carry knives, brass knuckles and mace.  As vulnerable gay and transgender youth, they've been shot, stabbed and raped.
Once victims, they've now turned the tables, beating people into comas and stabbing enemies with ice picks. Started in 2005 by a group of bullied 9th graders, today these 14–22 year old gang members all have rap sheets riddled with assault, armed robbery and drug dealing charges.
Led by an ex-convict named "Mo," The Check It members are NOW creating their own clothing label, putting on fashion shows and working stints as runway models. But breaking the cycle of poverty and violence they've grown up in is a daunting task. So when The Check It are not taking small steps forward on the catwalk, they too often take massive steps backwards. CHECK IT captures the struggles and setbacks, but also the progress and triumphs of these kids.
The doc is produced by RadicalMedia and actor Steve Buscemi.
Watch their trailer, AFTER THE JUMP…