Alabama Chief Justice Roy Moore's 24-year-old son Caleb was arrested Sunday for drug possession near the scene of an attempted break-in in the town of Troy, AL.com reports: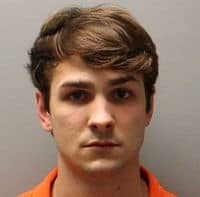 According to court documents, officers responded to the 1200 block of Allen Street in Troy to a report of an attempted home break-in. They found five men, including Moore, outside near a pickup truck that smelled strongly of marijuana.
After the men said there were no drugs in the vehicle, officers searched the truck and found a bag of marijuana in the glove compartment, along with Moore's passport. Several Xanax pills also were found in the bag.
Moore was arrested and taken to the city jail. He was released on bond totaling $8,500.
Roy Moore, who is bringing his fight against gay marriage to Texas later this month, declined to comment saying his son's arrest was a personal matter. 
Joe.My.God notes this is Caleb's third arrest.