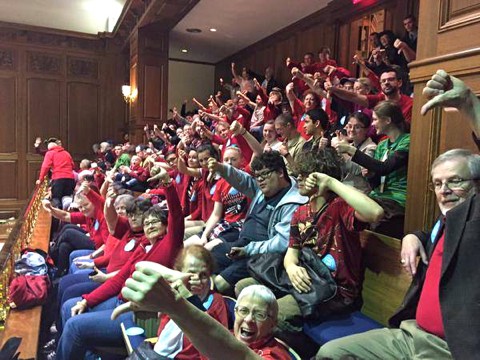 Indiana is the latest battleground in the ongoing war between so-called "religious freedom" and LGBT rights.
Despite opposition from the business community, an Indiana House panel approved a measure Monday that would enshrine a "license to discriminate" against LGBT people in state law.
The committee voted 9-4 to approve the measure, which now goes to the full House. It's already passed the Senate, but will have to return there because the committee amended it. Anti-gay Republican Gov. Mike Pence has said he would sign the bill.
From IndyStar.com:
Supporters say Senate Bill 101 would add legal protections for people with strong religious beliefs, including business owners who don't want to provide services for same-sex wedding ceremonies.

"We need to be protected from the government interfering in our religious exercise," Rep. Tim Wesco, R-Osceola, the bill's sponsor, said.

But opponents say the measure would license discrimination against gays and lesbians.

"Discrimination should not be practiced under the disguise of religious liberty," said the Rev. Dan Gangler, a spokesman for the Indiana Conference of the United Methodist Church.
The committee heard four hours of testimony, and opponents of the bill — led by Freedom Indiana — packed the gallery wearing red (above).
Indiana's Religious Freedom Restoration Act, similar to laws in at least 19 other states, would prohibit government from substantially burdening a person's free exercise of religion unless there's a compelling interest and it's the least restrictive means of furthering that interest.
In addition to enshrining a "license to discriminate" in state law, LGBT advocates fear the RFRA would undermine existing nondiscrimination ordinances. Indiana lacks statewide LGBT protections, and the bill contains no exemption for local nondiscrimination laws.
Representatives from two large employers, engine maker Cummins and healthcare provider Eskenazi Health, expressed concerns about the bill, according to IndyStar.com. And Freedom Indiana lists numerous other companies that have come out against it.
But apparently anti-LGBT sentiment runs so deep among some Indiana lawmakers that they're willing to risk the state's economic well-being so they can pander to Bible-thumping constituents.
If this bill passes in Indiana despite organized opposition from the business community, it will be a bad sign for the rest of the country.
Watch WTHR-TV's report, AFTER THE JUMP …