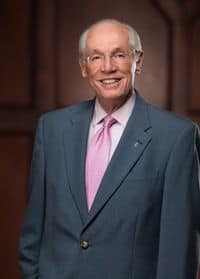 Bob Jones III, the former president of the private, fundamentalist Bob Jones University in Greenville, South Carolina, has issued a public apology for comments made in 1980 calling for gays to be stoned to death.
Jones, who was attending a White House meeting at the time with other fundamentalist pastors to pressure then President Carter to not extend Civil Rights Act provisions to gay Americans, said:
"I'm sure this will be greatly misquoted, but it would not be a bad idea to bring the swift justice today that was brought in Israel's day against murder and rape and homosexuality. I guarantee it would solve the problem post-haste if homosexuals were stoned, if murderers were immediately killed as the Bible commands."
This past week, BJUnity, a support group for LGBT BJU students, delivered a change.org petition to the university calling on Jones to apologize.
Jones, who now serves as the University's cancellor, issued the following statement in response to the petition:
"I take personal ownership of this inflammatory rhetoric. This reckless statement was made in the heat of a political controversy 35 years ago. It is antithetical to my theology and my 50 years of preaching a redeeming Christ, who came into the world not to condemn the world, but that the world through Him might be saved.
"Upon now reading these long-forgotten words, they seem to me as words belonging to a total stranger — were my name not attached.
"I cannot erase them, but wish I could, because they do not represent the belief of my heart or the content of my preaching. Neither before, nor since, that event in 1980 have I ever advocated the stoning of sinners.
"The Bible I love, preach and try to practice does not present today the stoning of sinners as God's way. Its message is the good news that Christ Jesus was condemned on behalf of sinners to rescue all of us from condemnation and judgment by His willing sacrifice, for he was made sin for us that we might be made the righteousness of God in him.
"I apologize for the reflection those remarks bring upon Jesus Christ, whom I love; Bob Jones University, which I have loved and served; and my own personal testimony
Reporting on Jones stepping down as BJU president in 2005, The Washington Post noted: 
Bob III — known on campus as "Dr. Bob" — became president in 1971, the year BJU admitted its first black student. But he maintained a ban on interracial dating, writing, "This institution's Bible-based convictions are against interracial dating and marriage." That position cost BJU its tax-exempt status in 1983 and kicked up a political firestorm in 2000 when presidential candidate George W. Bush spoke at the school.