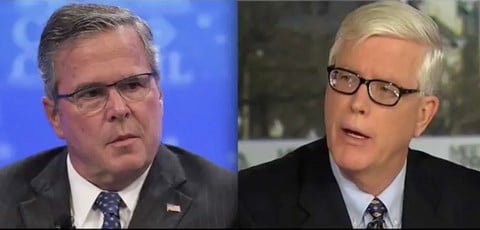 Former Florida Governor Jeb Bush defended Indiana's anti-gay "religious liberty" law when asked about it by conservative talk show host Hugh Hewitt on Monday
"I think if they actually got briefed on the law, they wouldn't be blasting this law. I think Governor Pence has done the right thing. Florida has a law like this. Bill Clinton signed a law like this at the federal level. This is simply allowing people of faith space to be able to express their beliefs. To be able to be people of conscience. I think once the facts are established, people aren't going to see this as discriminatory at all.
He added:
"There are many cases where people acting on their conscience have been castigated by the government. And this law simply says the government has to have a level of burden to be able to establish that there's been some kind of discrimination. We're going to need this. This is really an important value for our country to — in a diverse country, where you can respect and be tolerant of people's lifestyles but allow for people of faith to be able to exercise theirs."
Listen to the clip, AFTER THE JUMP…