Longtime politician and gay rights activist Cathy Woolard has tossed her hat into the ring in the race to become the next mayor of Atlanta, Georgia. The GA Voice broke the news yesterday.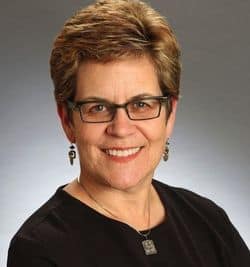 In 1997, Woolard made history by becoming the first openly gay elected official in the state of Georgia – as a member of the Atlanta City Council. Just a few years later, she would not only become the first female president of the City Council, but also the first openly gay one, too.
She explained why she finally decided to run for the big seat.
"I've probably been thinking about this since I was in office, off and on…In politics, timing is everything and I had some friends running the last couple times and just decided this time that I'm going to do it. I've been thinking hard about it and what's in store for me at this point in my life and I've never let go of how much I love Atlanta and all the wonderful things as a city we can do going into the future, not the least of which is finishing the Beltline." 
Woolard has not announced a start date for her campaign though the ambitious politician says that she's "going to run hard." Soon after Woolard's announcement, state Rep. Margaret Kaiser also announced her intention to run, bringing the total number of official candidates to two. The mayoral election will take place in 2017.
Watch a video interview with Woolard from 2014, wherein she talks about marriage equality, civil rights and the election of gay political candidates, AFTER THE JUMP…