The Central Conference of American Rabbis, the rabbinical arm of Reform Judaism, has installed its first openly gay leader, Rabbi Denise L. Eger, Philly.com reports: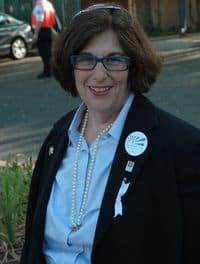 Eger, 55, who grew up in Memphis, Tenn., said she sees this moment not as a triumph for her alone, but for all those who have supported her and LGBT causes along the way.
"It's a wonderful tribute to all those LGBT colleagues and allies who worked so hard to channel hearts and minds and to work for equality and to cast the widest open tent for Judaism," she said.
Her installation also comes as the organization celebrates the 25th anniversary of its resolution calling for ordination of gay rabbis. And this year the board of trustees unanimously passed a resolution calling for the inclusion of transgender rabbis and gender expression, Eger said.
The AP adds:
Eger, founding rabbi of Congregation Kol Ami in Los Angeles County, isn't the first openly gay or lesbian clergy to lead an American rabbinic group.
In 2007, the Reconstructionist Rabbinical Association chose Rabbi Toba Spitzer, a lesbian, as its national president. But Reform Jews, with 2,000 rabbis and 862 American congregations, make up the largest movement in American Judaism and have a broader role in the Jewish world.