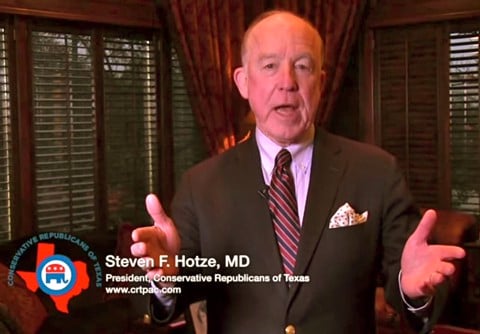 In a video promoting an upcoming rally featuring Alabama Chief Justice Roy Moore, anti-gay Texas activist Dr. Steve Hotze says same-sex marriage is "counterfeit," "fake" and "a lie" — and that state lawmakers are under attack from "militant homosexuals." 
Peter LaBarbera at Americans For Truth About Homosexuality reposted the video from Houston's Hotze, president of Conservative Republicans of Texas, who is organizing the "Defense of the Texas Marriage Amendment Rally" at the Capitol on March 23.
In the video, Hotze says it's time to "draw a line in the sand" and "join our army to protect Biblical marriage":
"We have over 100 elected State Officials who are sponsoring this event. They are coming under attack by militant homosexuals. That is why Christians and conservatives must have a show of force to let these legislators know that we support them. … 

"A fierce battle for the soul of Texas has begun.The liberals and their pro-homosexual allies want to force Texans to redefine marriage and accept 'homosexual mirage' as morally right.

"The idea that homosexuals could be married is a 'mirage.' It is contrary to God's moral order. It's a counterfeit. It's fake. It's a lie. The homosexuals and their supporters are using the liberal federal judges to redefine marriage against the will of the people in Texas and across America, which will force Texans to grant public approval and acceptance of homosexual activity. This will lead to homosexual behavior being taught to school children."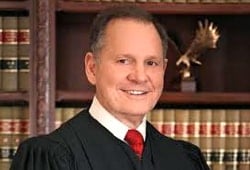 Hotze has become well known for his recent lawsuit against Obamacare. But he also has a long history of anti-gay activism. In 1985, Hotze sponsored the "Straight Slate," a group of eight City Council candidates who ran on an anti-gay platform — including a mayoral candidate who wanted to "shoot the queers." In 2009, Hotze sent out mailers attacking then-mayoral candidate Annise Parker over her sexuality. In a Republican Party fundraising letter last year, Hotze referred to gays as "sodomites."
"Our Founding Fathers would be furious to find out that the Constitution was being interpreted to allow sodomites to marry," he wrote.
In a post earlier this year endorsing legislation that would revoke the salaries of county clerks who issue same-sex marriage licenses, Hotze wrote: 
"If the Texas Marriage Amendment is overturned permanently, then every Texas citizen, every church and business would be coerced and compelled to recognize and affirm homosexuality and other deviant sexual relationships as morally and legally equivalent to marriage. If this occurs then anyone who speaks out against homosexuality and deviant sexual relationships will be prosecuted for hate speech and hate crimes, violating the Constitutional rights of the majority to their freedom of speech and freedom of religion. …

"Texas is the last bastion of Christian and conservative thought, power and action in the nation. If Texas were to fall, then America would be lost to the socialists and the secular humanists. We must shift the momentum in the battle for the heart of America and lead a Christian and conservative offensive that will spread across America and defeat Obama and his pro-homosexual, socialist allies."
Next Monday's anti-gay rally will coincidentally take place on the same day as Equality Texas' Family Advocacy Day. However, Equality Texas representatives say no counterprotest is planned and they will instead host an ice cream social during the rally.  
Watch Hotze's video promoting the rally, AFTER THE JUMP …