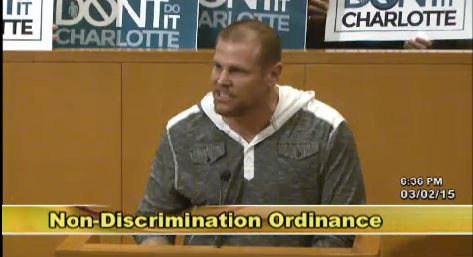 After hours of contentious debate, much of it centered around the use of bathrooms by transgender citizens, the Charlotte, North Carolina City Council voted down several LGBT non-discrimination ordinances, the Charlotte Observer reports:
Before the final vote, council members had removed the section of the ordinance that would have allowed transgender people to use the bathroom of the gender they identify with. That issue drew the most vigorous opposition from dozens of speakers.
"All over the world, there are restrooms for men and restrooms for women," said Driggs, a Republican. "It does not place an unreasonable burden on them and it does not stigmatize them."
But even with the bathroom portion removed, council remained divided. Several council members had said they were opposed to removing that part, which would also have applied to locker rooms and showers, because it weakened the ordinance.
The 6-5 vote is the second time in two decades that Charlotte has rejected LGBT-inclusive protections. LGBT advocates are condemning the vote.
…If passed, Charlotte would have become the first city in North Carolina to pass LGBT-inclusive public accommodations and other protections. Other ordinances proposed for amending — adding marital status, familial status, sexual orientation, gender identity and gender expression — included commercial contracting, passenger vehicles for hire and regulations for the Charlotte-Mecklenburg Community Relations Committee.
Watch a report from WSOCTV, AFTER THE JUMP…
Never seen a crowd like this at #cltcc before. Hundred. Up to 93 speakers. pic.twitter.com/rI6zCbzKhw

— Ely Portillo (@ESPortillo) March 2, 2015